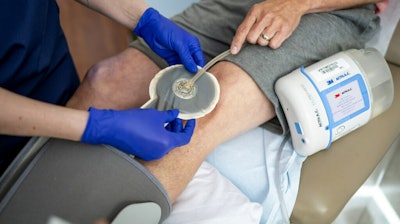 3M
3M Health Care's Medical Solutions Division said its 3M V.A.C. Therapy negative pressure wound therapy (NPWT) has surpassed a clinical evidence milestone of 2,000 published, peer-reviewed medical journal studies.
The company said V.A.C. Therapy is the first and only NPWT solution to garner this number of published studies about its therapy. It is backed by more clinical data than any other brand, accounting for more than 75% of published NPWT clinical evidence.
The clinical studies have been conducted by wound care professionals worldwide and published in journals across the globe, covering a range of wound types, wound care settings and study formats, such as case studies, economic studies, randomized controlled trials and more.
Today, V.A.C. Therapy is used across a spectrum of health care settings, from acute care facilities to ambulatory surgical centers, assisted living facilities, and in patients' homes. In the U.S., V.A.C. Therapy is available with 24/7 remote therapy monitoring to support adherence to the therapy. 3M's NPWT portfolio evolves to meet clinician and patient needs. Last year, 3M said it launched the first-ever silicone-acrylic hybrid drape for use with V.A.C. Therapy, the 3M Dermatac Drape, a product designed to be gentle on patients' skin and easy for clinicians to use.