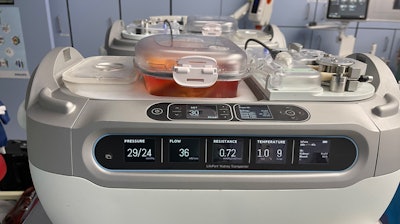 Organ Recovery Systems
Surgeons at Universitaire Ziekenhuizen and AZ Universitair Ziekenhuis have successfully performed the first kidney transplant procedures as part of a national contract with Organ Recovery Systems that designates the company as the exclusive provider of preservation services for donor kidneys designated for clinical transplantation.
The arrangement calls for the use of the company's proprietary LifePort Kidney Transporter at all transplant centers throughout Belgium along with logistical support services. LifePort Kidney Transporter is a novel medical device for organ preservation and transportation that employs hypothermic machine perfusion (HMP) to improve viability of a donor organ during the crucial window of time between organ donation and transplantation.
Starting October 1, 2022, through 2025, Organ Recovery Systems will provide all-inclusive preservation services for all Belgium-based transplant centers.
"By establishing LifePort Kidney Transporter as the standard perfusion technology in Belgium, we're going to show the world what the future of organ preservation looks like," said Professor Tom Darius of Cliniques Universitaires Saint-Luc. "LifePort Kidney Transporter gives us the best shot at extending and improving the lives of people in need of a kidney transplant."
Since its launch in 2003, LifePort Kidney Transporter has been employed in over 175,000 renal transplant procedures worldwide.