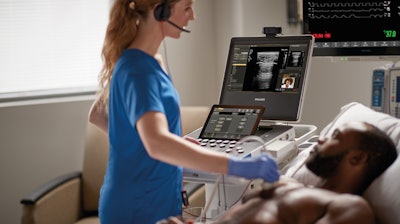 Philips
Royal Philips announced the global launch of a next-generation compact portable ultrasound solution at the Radiological Society of North America (RSNA) annual meeting.
Philips' new Compact 5000 Series aims to bring the diagnostic quality associated with premium cart-based ultrasound systems to more patients. Designed for portability and versatility without compromising image quality or performance, the Compact 5000 series facilitates first-time-right ultrasound exams for more patients.
Replicating the user interface and workflow of Philips' cart-based systems EPIQ Elite and Affiniti, and offering full compatibility with these systems' transducers, Ultrasound Compact 5000 Series supports an easy learning curve for users. Designed for shared service capabilities across specialties including cardiovascular, obstetrics and gynecology, point of care, and general imaging, Ultrasound Compact 5000 Series system helps meet the needs of multiple clinical segments. Designed for portability, the Compact system can be configured with an optional battery allowing for 2.5 hours of scanning time and 20% faster power-up capability to quickly ready the system at the patient's side when every second counts. Additionally, the new system features 33% fewer hard keys on the console, and a fully sealed control panel for easy disinfection and cleaning protocols.
This newest system also features Philips Collaboration Live secure real-time telemedicine software, with the ability to call on additional clinical expertise via secure voice, text, screen sharing, and video streaming from anywhere with a mobile or internet connection. Collaboration Live even allows a remote user to control the unit's settings to acquire diagnostic quality images, reducing the need for follow-up scans and patients having to travel to a central hospital facility.
Philips Ultrasound Compact System 5000 Series complements Philips' comprehensive portfolio of diagnostic ultrasound systems for every level of care and clinical setting, ranging from its ultra-mobile Lumify Handheld Ultrasound and hand-carried tablet InnoSight, and value-based ClearVue ultrasound systems, to its high-end and premium ultrasound Affiniti and EPIQ Elite systems.
The Compact 5000 Series, which recently received FDA 510(k) clearance and pending CE mark, joins Philips' expanded ultrasound family with the added benefit of EPIQ Elite and Affiniti workflow commonality and lifetime value.