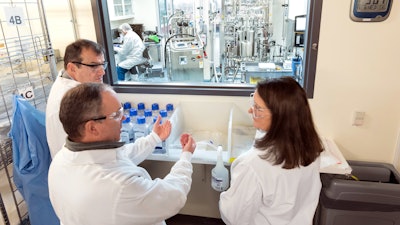 Gates Biomanufacturing
The Gates Biomanufacturing Facility (GBF) has announced the successful completion of the full cycle manufacturing of the recombinant Bulk Drug Substance (BDS) of the anti-Tau vaccine, AV-1980R, in collaboration with the Institute for Molecular Medicine (IMM), California.
IMM selected GBF as its exclusive cGMP-grade BDS manufacturing partner supporting clinical supply for IMM's recombinant protein vaccines, including AV-1980R. As a result of this work, AV-1980R Drug Substance can be used for phase 1 and phase 2 clinical trials in humans. This work was financed through funding provided by the U.S. National Institute on Aging (NIA).
Abnormal Tau aggregation into neurofibrillary tangles is the hallmark of different tauopathies - neurodegenerative disorders that include Alzheimer's Disease (AD). Until now, AD therapeutics have mostly focused on the treatment of already diseased patients. AV-1980R vaccine targets Alzheimer's Disease (AD) and other Tau aggregation-associated neurodegenerative conditions by providing outstanding levels of antibody protection against harmful forms of Tau protein that may lead to disease.
All vaccines developed by IMM are based on the proprietary MultiTEP platform technology, recently licensed to its commercial entity, Nuravax, which demonstrated therapeutic efficacy and immunogenicity in various species of transgenic animal models of AD, including non-human primates.