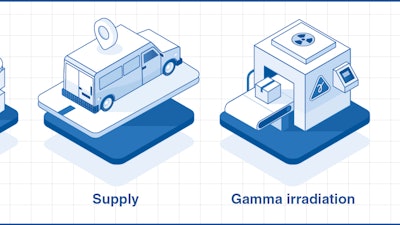 Qosina
Qosina, a global supplier of OEM single-use components to the medical and biopharmaceutical industries, introduced an Irradiate to Order service for its single-use bioprocess component portfolio. This service provides Qosina's customers a way to purchase pre-irradiated single-use bioprocess components.
Customers can select from more than 1,200 components for single-use bioprocess applications and purchase small quantities of individually packaged components, irradiated at greater than 25 kilogray. Virtually any component from Qosina's extensive product portfolio can be supplied individually packaged and irradiated to order.
Irradiated components enable process developers to build their own single-use systems using bioburden-reduced components, which have been treated with ionizing radiation to mimic the treatment of the single-use system that will be used upon scale up.
Components or systems requiring zero or low bioburden when applied in nonsterile processes do not require a validated sterile claim and may be qualified as microbially controlled. Gamma irradiation at >25 kilogray is an accepted practice to reduce or eliminate bioburden in situations where low bioburden is desired, but a formal sterile claim is not a requirement.