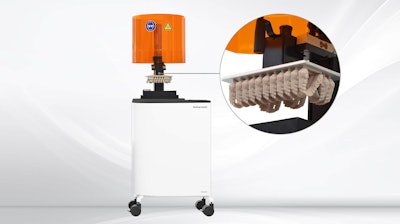 Desktop Health
Desktop Health — a production-grade medical 3D printing brand of Desktop Metal — today announced global availability of the Einstein Pro XL, an affordable, high-accuracy, high-throughput 3D printer ideal for dental labs, orthodontists, and other medical device manufacturers.
The Einstein Pro XL is a DLP-based polymer printing system that uses a 4K ultra high-definition projector to deliver precision printing of 45 micron in X and Y across a large build area of 9.8 x 5.5 x 6.5 in (249.1 x 140.1 x 165.1 mm). This high-speed printer features proprietary Hyperprint technology that turbocharges print times with strategically applied heat and a closed-loop sensing system, in addition to other enhancements.
The Einstein Pro XL retails for $39,999, without a long-term lease commitment. This new model joins the popular entry-level Einstein desktop printer, which launched in 2022, as a complete set of printers for dental and medical professionals.
To meet the demanding uptime requirements of dental and orthodontic labs, the Einstein Pro XL has been tested in hundreds of hours of printing internally and externally with users worldwide. While final throughput may vary based on specific case sizes, testing of multiple Einstein Pro XL systems across multiple builds demonstrates the high productivity of the system:
Dental & Orthodontic Model Print Times
30 full arch models in 68 minutes
46 crown & bridge models in 61 minutes
Prosthetics & Appliances Print Times
52 night guards in 186 minutes
14 monolithic dentures in 79 minutes
18 denture bases in 130 minutes
15 full arch denture teeth in 35 minutes
330 temporaries or crowns in 32 minutes
The Einstein Pro XL is qualified to 3D print Desktop Health's most popular dental materials.
The full family of Flexcera materials — including Flexcera Base, Flexcera Smile and Flexcera Smile Ultra+2 — is qualified on the Einstein Pro XL to print temporary and permanent restorations. An FDA 510(k) cleared Class II material, Flexcera Smile Ultra+ prints strong and beautiful temporary and permanent dental restorations, including veneers, crowns, bridges, and dentures.
Model materials, such as longtime favorite E-Model Light and Model Z for speed, can produce accurate full arch models quickly for the final creation of thermoformed orthodontic aligners or fitting of crowns, bridges and more.
SmileGuard for bite splints, night guards, and mouth guards, as well as E-Tray are also qualified for use on the Einstein Pro XL. E-Guard and E-Guide, already approved for use on the Einstein desktop printer, are expected to be qualified on the Einstein Pro XL by the end of June.