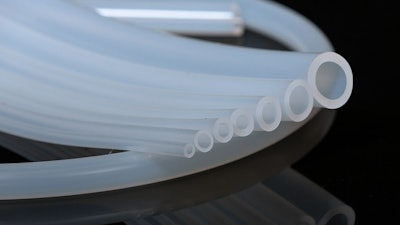 ILC Dover
ILC Dover, a company specializing in single-use solutions for biopharmaceutical and pharmaceutical processing, announced it is now offering platinum-cured silicone tubing to expand its growing liquid handling portfolio.
Used for a variety of applications throughout the biomanufacturing process including upstream, downstream and fill & finish, ILC Dover's platinum-cured silicone tubing is designed and validated for the high quality, purity, and performance requirements of biopharmaceutical fluid transfer processes.
ILC Dover offers a comprehensive and integrated solution portfolio to support customers' unique needs in powder and liquid handling. The addition of platinum-cured silicone tubing enhances the company's single-use liquid handling portfolio to better serve its biopharmaceutical customers worldwide.
"As an integrated solutions provider to companies of all sizes across the globe, ILC Dover is ready to offer this critical component with superior performance and assurance of supply," said Corey Walker, CEO of ILC Dover. "This new offering represents how we continue to grow and meet demand, while remaining focused on providing broader and more comprehensive workflow solutions within the biopharmaceutical, cell & gene therapy, and related life sciences end markets."