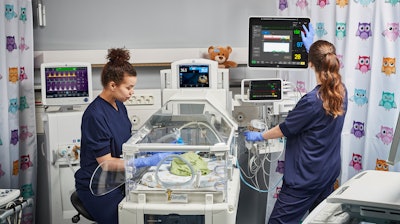 GE HealthCare
GE HealthCare today announced US FDA 510(k) clearance of its CARESCAPE Canvas patient monitoring platform for precise, flexible patient care. CARESCAPE Canvas and CARESCAPE ONE are part of an adaptable ecosystem that can easily scale up and scale down monitoring capabilities based on the acuity of each individual patient, delivered on a standardized platform that drives enterprise efficiency and ease of service.
CARESCAPE Canvas is a FlexAcutity solution equipped with smart parameter technology that can be used for patients at all levels of acuity. This monitoring platform offers flexibility, standardization and ease of use by leveraging micromodules that connect with standardized medical USB technology -- simply adding or disconnecting cables equipped for various configurations enables more efficient care based on patient care needs. It is also equipped with flexible, easy to configure software and interchangeable frames for advanced parameters, enable monitoring devices to be quickly redeployed across the hospital enterprise as needed.
The CARESCAPE Canvas bedside monitor was developed and tested with the rest of GE HealthCare's ecosystem, not only with the current devices available, but also with prior versions that are used across the 100 million patients monitored by GE HealthCare devices each year. This backward compatibility allows healthcare systems to upgrade to the latest capabilities at their pace. CARESCAPE Canvas was also developed with sustainability in mind, with a 53% reduction in packaging volume1, 48% reduction in packaging weight compared to previous generation monitor1, and a 25% reduction in energy consumption compared to previous models2. In addition, CARESCAPE Canvas monitors made at GE HealthCare's Helsinki site are manufactured by using 100% renewable wind electricity3.
CARESCAPE Canvas was recently awarded the world-renowned, iF Design Award 2023. The jury prize honors design achievements in all disciplines and recognized CARESCAPE Canvas for product design in medicine/health.