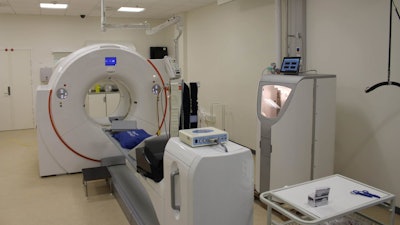 MedTrace
MedTrace Pharma A/S, a pharma and device company and an innovator in PET diagnostic imaging, announced today that it has scanned the first subject in its RAPID-WATER-FLOW Phase 3 clinical trial.
The global trial enrolls adults with suspected Coronary Artery Disease (CAD) and seeks to evaluate the use of oxygen-15 labeled water (15O-water) PET in diagnosing CAD.
The first subject scan took place at Aarhus University Hospital (AUH) in Denmark just two months after MedTrace received FDA approval of the company's Investigational New Drug (IND) application and the approval to commence the trial.
Marcelo Di Carli, MD, Professor of Radiology and Medicine, at Brigham and Women's Hospital and Harvard Medical School, is leading the trial as Principal Investigator.
"This is a significant milestone for this exciting and important study and the first step towards bringing 15O-water as a clinical myocardial perfusion agent in the United States. The practical real-time production of 15O-water with MedTrace's novel technology promises to revolutionize the practice of cardiac PET imaging by improving patient access to the most accurate approach to the non-invasive diagnosis of coronary artery disease," said DiCarli.
MedTrace's technology automatically produces and administers 15O-water to patients at the point of care. The automated software solution also provided by MedTrace (aQuant, in development) makes available a fully quantitative as well as visual 15O-water image analysis, including quantification of blood flow and segmental perfusion data, aiming to allow healthcare professionals to diagnose patients accurately and quickly.
The innovative solution allows for absolute blood flow imaging and quantification based upon the PET tracer 15O-water, which has long been acknowledged as the gold standard tracer for quantitative myocardial perfusion imaging.
Hospitals produce the radioactivity themselves on demand and are not dependent on third-party suppliers for radiopharmaceuticals.