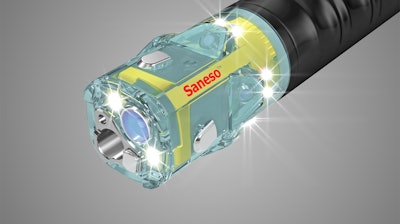 Saneso
Saneso, a U.S. developer of endoscope systems, said the U.S. Food and Drug Administration (FDA) has granted 510(k) clearance of its novel integrated 360° field of view colonoscope.
To support its application, Saneso commissioned an independent study published in the American College of Gastroenterology in which 324 endoscopists from the U.S. used Saneso's colonoscope. The study compared traditional single camera colonoscopes to Saneso 360° colonoscope using 20 anatomic colon models. The study showed 100% of the endoscopists (P < 0.0001) discovered more polyps with Saneso versus traditional single camera colonoscopes.
"And it further showed that the discovery of the additional polyps was not predicated on physician's experience level or practice environment," added Brandy Crawford, VP of Clinical Affairs. "Our endoscopes are comfortably familiar in operation to traditional endoscopes."
In addition to its 360° field of view, Saneso endoscopes have tissue wash and multi-lens wash systems: "Select Band Imaging" which enables examination of the GI tract in a narrow spectrum, and "Dual Band Imaging" which enables examination of the GI tract simultaneously under two spectra.