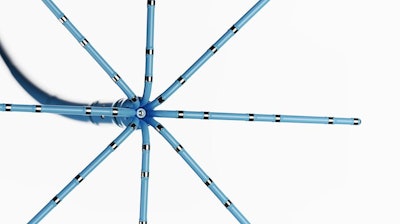 Biosense
Biosense Webster, part of Johnson & Johnson MedTech, announced the release of the OCTARAY Mapping Catheter with TRUEref Technology powered by the CARTO 3 Version 7 System.
The OCTARAY Mapping Catheter was developed for the mapping of cardiac arrhythmias, including atrial fibrillation (AFib). The catheter has eight splines with improved electrode spacing options to provide shorter and more efficient mapping times than PENTARAY NAV ECO Mapping Catheter, which may shorten overall ablation procedure times.
TRUEref Technology is a novel mapping reference electrode that reduces the impact of farfield signals. The catheter has forty-eight small mapping electrodes on eight splines, reduced electrode size and tight electrode spacing. The OCTARAY Mapping Catheter with TRUEref Technology accurately identifies lesion set gaps, and improves characterization of lesion sets compared to the PENTARAY NAV ECO High Density Mapping Catheter. The catheter allows for mapping with greater precision and detail with improved signal quality.