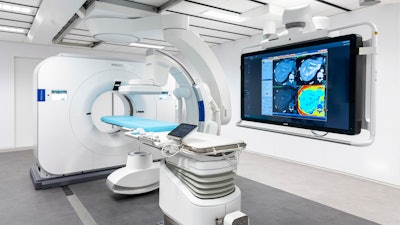 Philips
Royal Philips announced new milestones in the development of the world's first spectral detector angio CT solution - Philips Spectral Angio CT suite - bringing the company's breakthrough spectral CT imaging technology into an integrated hybrid angio CT suite.
By combining its Spectral CT 7500 system and its Image Guided Therapy System – Azurion with FlexArm – in a fully integrated interventional suite solution, Philips aims to give physicians immediate access to these two key imaging modalities in a single room, enabling innovation in minimally-invasive procedures in areas such as oncology, stroke, and trauma care.
Philips today announced a new clinical partner and highlighted clinical studies that focus on the added value of using spectral CT imaging technology during interventional procedures.
Expanding Philips' clinical network
Leiden University Medical Center (Leiden, the Netherlands) has joined Philips' global network of clinical partners to investigate how its spectral detector angio CT solution could potentially offer new treatment opportunities and improve patient care.
"We are excited to co-create an innovation that could play a defining role in improving patient care in the space of interventional oncology," said Mark Burgmans, MD, Head of Interventional Radiology at Leiden University Medical Center. "Adding spectral CT imaging to the interventional suite will enable us to offer new treatment opportunities, avoid moving patients from one imaging suite to another, and offer the unique benefits of spectral CT information when you need it."
Other clinical institutes that Philips is working with on this innovation are Mayo Clinic (Rochester, MN, U.S.) and Baptist Health's Miami Cardiac & Vascular Institute (Miami, FL, U.S.).
Philips Image Guided Therapy System – Azurion with FlexArm – is the company's next-generation image-guided therapy platform, integrating best in class imaging systems, software, and specialized diagnostic and therapeutic devices to support exceptional treatment for the most complex procedures. The addition of Philips' award-winning Spectral CT 7500 system means physicians only need one scan to capture all the spectral information required to differentiate and quantify different tissues. Spectral CT enables improved detection, delineation, and quantification of lesions, leading to better-informed planning for minimally-invasive procedures and more precise interventions. It has already proved its worth in other areas of oncology - for example, it has demonstrated higher sensitivity in detecting malignant findings and improved readings of incidental findings.
With its ability to improve tissue characterization, the Spectral CT 7500 offers significant benefits over conventional CT. Through continuous research, Philips is building clinical evidence that supports the added value of spectral CT imaging for diagnosis and treatment guidance.