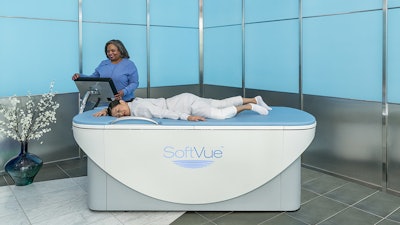 SoftVue
The Barbara Ann Karmanos Cancer Institute said it is the first to receive the SoftVue 3D Whole Breast Ultrasound Tomography System, following its approval by the Food and Drug Administration.
Developed by Novi-based Delphinus Medical Technologies, the new and advanced technology was designed to be the screening solution for women with dense breast tissue. When paired with a screening mammogram, SoftVue has been shown to identify up to 20 percent more cancers, while also reducing false positives and decreasing unnecessary call-backs and biopsies.
SoftVue, used as an adjunct to mammography, allows women with dense breast tissue to have both cancer screenings during a single appointment. Taking approximately eight to 10 minutes, a SoftVue mammogram uses warm water and ultrasound technology to create a 3D image of the whole breast to detect the presence of cancer in its earliest stages — including masses in dense breast tissue often missed by mammography alone — while avoiding radiation exposure and compression, allowing the radiologist to make a more accurate diagnosis.
"The team at Karmanos has contributed deeply to the creation of our breakthrough SoftVue ultrasound tomography system, and we are thrilled to announce that they placed the first order and will be the first in the world to offer SoftVue," said Mark Forchette, president & CEO of Delphinus Medical Technologies, Inc. "We are excited about our next steps together to provide a new solution for the unmet needs and challenges of dense breast screening, and to share our proven clinical benefits with their patients."