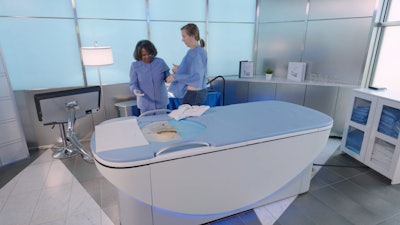 Delphinus
Delphinus Medical has closed a $30 million Series D financing to fund worldwide commercialization of its SoftVue 3D Whole Breast Ultrasound Tomography System (SoftVue).
The round drew participation from both new and existing investors, including Arboretum Ventures, Beringea, North Coast Technology Investors, Venture Investors, Hopen Life Science Ventures and Waycross Ventures. The fund's closing comes on the heels of the announcement that the first SoftVue System was sold, and will go to Karmanos Cancer Institute, Detroit, where the technology was originally conceived.
SoftVue is indicated for use as an adjunct to digital mammography in the screening of asymptomatic women with dense breast tissue. SoftVue enhances dense breast screening and identifies up to 20% more cancers with greater accuracy and potentially fewer biopsies than full field digital mammography (FFDM) alone. The SoftVue exam is completed with no compression or radiation, and its PMA indication for use allows SoftVue exams to be performed at the same appointment as screening mammograms, facilitating a streamlined workflow and rapid delivery of results.