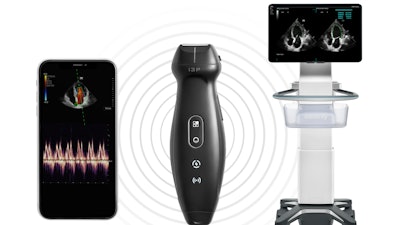 Mindray
Mindray announced the launch of its TE Air Wireless Handheld Ultrasound, a new imaging solution that improves ultrasound accessibility. This compact, wireless technology enables healthcare professionals to carry scanning capabilities in their pockets, adapting to a wide array of clinical scenarios. The TE Air can connect to either a mobile device or the touch-based TE X Ultrasound System, expanding its utility and accessibility.
The launch of TE Air builds on Mindray's dedication to the point of care ultrasound (POCUS) industry and its continued efforts to diversify and introduce revolutionary products to the Emergency Medicine and Critical Care markets. With its compact, wireless design, the TE Air slips conveniently into a pocket, so it's always with you and ready for use. Its versatility, coupled with flexible charging options, ensures it's not just mobile but reliably accessible, empowering users to navigate even the most unexpected clinical scenarios with confidence.
The TE Air App, available on iOS, allows one-handed operation in any location. It can also seamlessly integrate with hospital information systems to help improve workflow. Furthermore, the app works to onboard patient data management solutions to provide connected patient care.