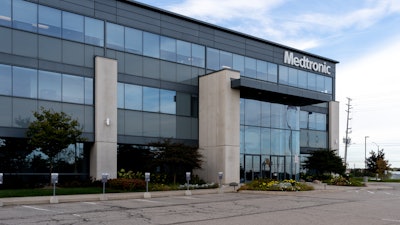 iStock
Medtronic on Friday completed it acquisition of Intersect ENT, expanding the company's ear, nose, and throat (ENT) portfolio with products used in sinus procedures to improve post-operative outcomes and to treat nasal polyps.
The deal is officially wrapped approximately nine months after it was first announced. To complete the deal, Medtronic had to divest Intersect ENT subsidiary Fiagon, which makes ear, nose, and throat navigation systems and balloon sinus dilation products. The divestiture was ordered by the FTC concerns that the deal would otherwise lead to higher prices and reduced innovation in the medical care market.
As a result of the close of the transaction, Medtronic has acquired Intersect ENT's PROPEL and SINUVA (mometasone furoate) sinus implant product lines and technology, intellectual property, and Menlo Park, Calif., facility. Intersect ENT employees also join Medtronic through this acquisition. A former Intersect ENT brand, Fiagon, was divested simultaneously at close, and those products ― Cube™ navigation system and VenSure balloon sinus dilation system ― were not included in the acquisition.
"By combining Intersect ENT's groundbreaking localized drug delivery products with the leading navigation and powered instruments of Medtronic, we can now equip physicians with the right tools for many unique patient needs," said Vince Racano, president of the ENT business, which is part of the Neuroscience Portfolio at Medtronic. "This acquisition expands our portfolio, and we can now provide a more comprehensive continuum of care for CRS patients while supporting the bold ambition of Medtronic to be the global healthcare technology leader."
"We believe the market leadership and global footprint of Medtronic, coupled with enterprise resources to fuel pipeline innovation and commercialization, will advance our reach to customers and patients more quickly and serve our shared vision of improving patient access, outcomes, and satisfaction for millions of people around the world who suffer from ENT diseases," said Thomas West, president and CEO of Intersect ENT. "We are thrilled to combine these two companies as we now officially work together to bring more ENT options to patients. I am especially proud of our dedicated Intersect ENT employees, whose entrepreneurial spirit and passion for innovation have driven our ability to achieve this milestone."