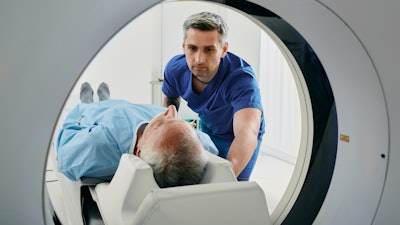 iStock
Ezra, the healthcare AI startup transforming early cancer detection through full body MRI screening, announced today that its newest proprietary Artificial Intelligence, Ezra Flash, has received 510(k) clearance by the U.S. Food and Drug Administration (FDA). Ezra Flash enhances the quality of MR images, making it possible for Ezra to decrease the time needed to complete a high quality scan, thereby reducing MRI cost. The company will use this technology to launch the world's first 30 minute full body MRI scan.
"Over 1.9 million people are expected to be diagnosed with cancer in the U.S. in 2023 according to the American Cancer Society. Our mission at Ezra is to detect cancer early for everyone in the world, and I'm really excited about this new AI enabling us to make our scan more affordable," said Emi Gal, founder and CEO of Ezra. "By boosting quality while reducing scan time, we're decreasing our cost for a full body MRI by 30%, and we're passing these cost savings to our customers."
With the FDA clearance of Ezra Flash, Ezra is the first company globally to leverage AI across all three key components of the cancer screening process: imaging, analysis and reporting. The Ezra Flash AI enables Ezra to increase MR image quality, Ezra Prostate AI assists radiologists in the analysis of MR images of the prostate, and Ezra Reporter AI creates an easily digestible translation of radiology reports that assist medical professionals in communicating screening results to people.
Ezra Flash has received clearance for use in brain imaging. The company has created a fast MRI protocol that produces noisy images, and Ezra Flash is able to enhance the quality of these images. The Ezra Flash AI was trained using the company's proprietary longitudinal MRI dataset, comprising hundreds of thousands of MR images in patients and healthy subjects.
Ezra trained the AI to assess which elements of the MRI scan are essential to creating a complete and accurate image. This allowed Ezra to enhance image quality in high-speed MRI scans that are at the limits of the current standard of care. Ezra used a multi-step validation process in which a panel of five radiologists analyzed the performance of the AI both qualitatively and quantitatively. These medical experts were instrumental in choosing an AI model that can enhance MR images without obscuring any existing pathology.
Leading biomedical imaging researcher, Daniel K. Sodickson, MD, PhD, who is the Chief of Innovation and the Director of the Center for Advanced Imaging Innovation and Research in the Department of Radiology at NYU, worked closely with Ezra's team of Artificial Intelligence researchers, led directly by Mr. Gal, in the development of Ezra Flash.
"The FDA clearance of Ezra Flash is an important landmark – the beginning of a sea change in how medical imaging is used," said Dr. Sodickson. "Progressive increases in imaging speed over time have already resulted in myriad benefits to patients and physicians. Until now, though, imaging has principally been used for the diagnosis and characterization of disease once other signs and symptoms have already developed. Ezra, on the other hand, is using MRI as a tool for early detection of cancer prior to the development of symptoms - a safety net of proactive monitoring that has previously only been available to patients with certain well-established risk factors. Ezra Flash will increase the accessibility of early-warning MRI, and Ezra's dataset of repeated scans over time will help it to prevent false positives and ensure that the warnings it provides are appropriate and actionable."
Ezra, which launched in 2019, offers individuals the ability to get preventative, proactive, and ongoing cancer screening via the company's Full Body MRI. Ezra monitors for possible cancer and 500+ conditions in up to 13 organs, giving individuals the ability to detect potential cancer and other diseases at an earlier stage. When applicable, the company also leverages a low-dose chest CT scan for lung cancer screening and assessment of heart disease risk.
The Ezra Full Body MRI, which previously took one hour and cost $1,950, is now available as a 30 minute MRI scan for $1,350, a reduction in price of 30%. Ezra's ultimate goal is to offer a 15 minute full body MRI scan for $500. The company aims to achieve this goal over the next two to three years.
Early cancer detection has an 80% survival rate, compared to less than 20% for late-stage cancer according to the American Cancer Society. Thirteen percent of Ezra's members have found potential cancer through an Ezra scan, and almost three-quarters of members have discovered non-cancerous but clinically significant disease states (such as fatty liver disease, hernias, aneurysms, or vertebral disk bulges).