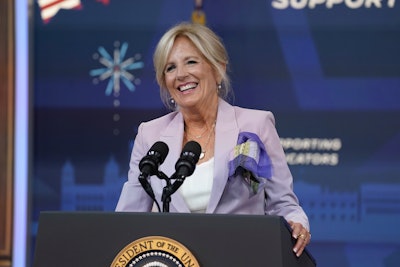 AP Photo/Evan Vucci
WASHINGTON (AP) — First lady Jill Biden on Wednesday welcomed a new proposal to have Medicare pay for navigation services for cancer patients, saying it will make "an enormous difference in people's lives."
She joined other Biden administration officials on a conference call to discuss a proposal by the Centers for Medicare and Medicaid Services to pay for "principal illness navigation services," which help patients make decisions about treatment for cancer and other serious illnesses and overcome barriers to quality care.
Biden spoke about her sister Jan, who underwent six weeks of stem cell transplant therapy several years ago to treat lymphoma. Biden said an advocate helped her sister "every step of the way."
She said making these services more widely available is something that she and her husband, Joe Biden, worked on before he was elected president and then made a priority after he took office.
The first lady frequently visits cancer centers around the United States as part of a Biden administration initiative called the Cancer Moonshot, which has a goal of preventing more than 4 million cancer deaths by 2047 and improving the experience of people affected by the disease, including patients.
"Since we began this work, I've consistently heard one thing: these navigation programs are so successful, but since they aren't generally paid for, most medical practices can't afford to provide them," Biden said.
The Bidens also lost a son, Beau, to brain cancer in 2015.
If finalized, the proposed rule would allow Medicare to pay for navigation services. The change would take effect on Jan. 1. Members of the public will have until Sept. 11 to comment on the rule.
"This is a first step. And we hope that the private sector will do its part as well," the first lady said. "We know that these services make an enormous difference in people's lives."