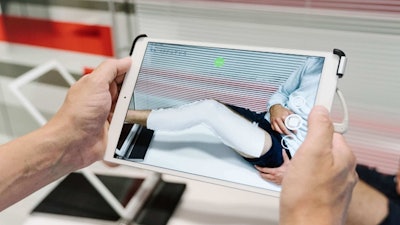 Aston University and Invibio
Aston University has partnered with Invibio Biomaterial Solutions to develop more advanced fracture fixation devices used in orthopedic trauma procedures, using the company's patented composite material.
Metals such as stainless steel and titanium are widely used for fracture fixation with a strong track record. While these metals remain the predominant materials for orthopedic fracture fixation, other materials have been developed to address some of the limitations of metal. One such material is PEEK-OPTIMA Ultra Reinforced material from Invibio. This material is a composite of continuous carbon fibers within a matrix of PEEK-OPTIMA polymer. Clinical studies of devices using this material demonstrate earlier healing, fewer non-unions, improved imaging, and easier removals when compared to metallic implants.
Leading the academic team from Aston University was Dr Laura Leslie, associate professor in Mechanical, Biomedical and Design Engineering and member of the Aston Institute of Materials Research. Her research focuses on biomedical engineering with an emphasis on fracture fixation in orthopedics. Dr Leslie was joined by Dr Greg Swadener, a specialist in adhesion, composites, biomaterials and biomedical engineering applications, and Dr Sarah Junaid, whose expertise is in fracture fixation, especially musculoskeletal lower limb damage on joint mechanics.
Completing the team as associate was Dr Shiling Zhang, whose work deepened Invibio's knowledge by creating reference documents and developing test methods and analytical techniques to determine how and what type of debris is generated through the service life of the implant. Dr Zhang completed a review paper and a suite of testing protocols and now works for Invibio as a senior technologist.