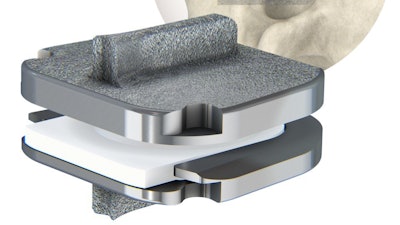 Centinel Spine
Centinel Spine today announced the first implantation of its prodisc C SK Cervical Total Disc Replacement (TDR) product.
In July, the company received U.S. Food and Drug Administration approval for 1-level indications for prodisc C Vivo, prodisc C SK, and prodisc C Nova. The prodisc C SK system is the second of the three new products to be released with the company recently announcing the 100th completed procedure with its prodisc C Vivo TDR product. Along with the currently available prodisc C implant, Centinel Spine has the broadest offering of cervical TDR solutions in the world to address individual patient anatomy and meet surgeon preference needs.
"In spine care, each patient's circumstances are different, so it is critical to provide surgeons with the ability to address each patient's unique needs," said Centinel Spine CEO Steve Murray. "With the release of both the prodisc C Vivo and prodisc C SK devices, we have expanded the options available to surgeons to allow for better matching of the disc to the patient. While these two new product releases have been conducted on a limited scale, we have already seen a strong positive response from surgeon partners related to the potential patient benefits."
The prodisc C SK device features a flat endplate design for optimized implant positioning that allows surgeons to address individual patient anatomy—and a low-profile central keel that provides immediate fixation and enables a streamlined keel preparation technique. Similar to all prodisc products, the prodisc C SK device incorporates prodisc CORE technology, the basis behind the predictable clinical outcomes of the prodisc platform after 30 years and over 225,000 implantations worldwide.*