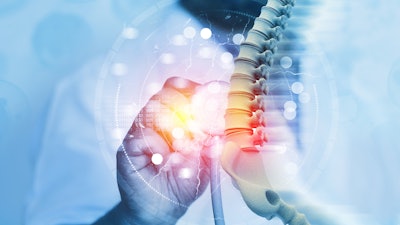 iStock
ZimVie said the FDA has approved a smaller height of the Mobi-C Cervical Disc in seven footprints that will address the anatomical needs of the U.S. patient population. Physicians have used the Mobi-C device for cervical disc replacement at one level or two contiguous levels to treat patients in France since 2004 and in the U.S. since 2013 when it became the first cervical disc approved for one and two levels by the FDA.
"The 4.5mm height implants are an important addition to the Mobi-C lineup," said Jad G. Khalil, M.D., orthopaedic spine surgeon at Michigan Orthopaedic Surgeons, PLLC. "Surgeons will be able to use the prostheses in more significantly collapsed discs and avoid over-distraction of the facet joints. This will expand the indications for cervical disc arthroplasty and therefore more patients can benefit from the clinically compelling Mobi-C Cervical disc."
"Improper sizing of an artificial disc can lead to problems such as prosthesis migration, subsidence, and segmental kyphosis. We also found from our biomechanical study that increasing the height of an artificial disc by just 1mm reduced the range of motion at that level by around 50%. Even a 5mm height artificial disc may be too tight for some patients. Therefore, FDA approval of 4.5mm height Mobi-C disc is very good news for our patients and allows greater flexibility for the surgeons to choose the best fitting artificial disc," said Kee D. Kim, M.D., Professor and Chief of Spinal Neurosurgery at the University of California, Davis.
"The approval of the 4.5mm Mobi-C is a win for our surgeons and their patients, as well as a validation of thoughtful strategy by our global Regulatory Affairs team who utilized real-world clinical evidence gained from EU studies to show long-term safety and efficacy and secure the FDA approval for the smaller disc," said Rebecca Whitney, Global President of ZimVie Spine. "We are pleased to provide surgeons the largest range of footprint and height options in the market to bring motion preservation to their patients. We will commercialize the product in the U.S. this fall."