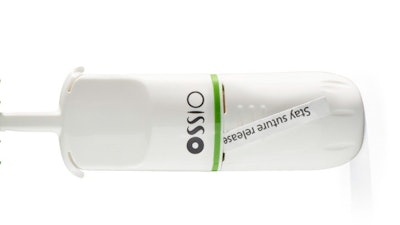 OSSIO
OSSIO, an orthopedic fixation technology company, announced today the U.S. launch and first commercial use of OSSIOfiber Suture Anchors, expanding patient access to the company's growing portfolio of bio-integrative implants for use in foot/ankle, shoulder, knee, hand/wrist and elbow surgery.
Gregory Berlet, M.D., founding partner at Orthopedic Foot and Ankle Center in Columbus, Ohio, recently became the first surgeon to use the new implant in clinical practice.
"The new OSSIOfiber Suture Anchors provide amazing strength and biology that I trust to be predictable and safe for my patients," said Dr. Berlet, chief medical officer of OSSIO. "Utilizing OSSIO's trusted bio-integrative material, these anchors allow me to maintain my preferred technique for soft tissue fixation procedures while improving my results. This is another big step for OSSIOfiber in becoming a new material standard in orthopedic fixation."
OSSIOfiber Suture Anchors were FDA cleared in March 2022 for use in "fixation of suture (soft tissue) to bone in the shoulder, foot/ankle, knee, hand/wrist, and elbow" in a variety of specific orthopedic procedures. These implants were designed to achieve strength and safety using their proprietary OSSIOfiber Intelligent Bone Regeneration Technology that leaves nothing permanent behind.