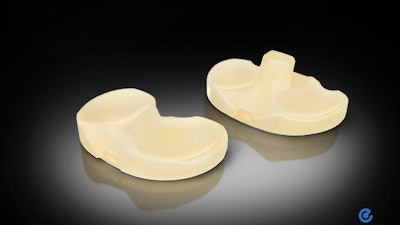 Exactech
Exactech, a developer and producer of implants, instrumentation, and smart technologies for joint replacement surgery, announced 510(k) clearance from the U.S. Food and Drug Administration for its new, advanced Activit-E polyethylene for the Truliant knee replacement system.
Activit-E brings a balance of material strength and toughness through chemically crosslinked polyethylene, while eliminating the need for gamma irradiation technology used in previous generations of polyethylene. The material is designed to maintain active oxidative resistance and long-term, high-performance, including strength and stabilization.
This new generation polyethylene is the latest, first-of-a-kind innovation by Orhun Muratoglu, Ph.D., Director of the Harris Orthopaedic Laboratory at Massachusetts General Hospital in Boston. Muratoglu invented the first crosslinked polyethylene, and the first of multiple generations of vitamin E, antioxidant polyethylene for leading orthopaedic companies.
The first products for Activit-E will launch in the beginning of Q3 2023 for select U.S. customers. Global expansion will begin in 2024.