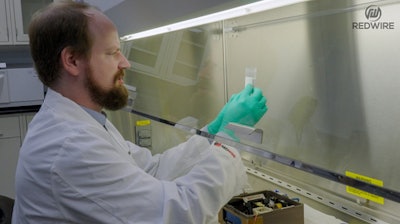 Redwire
Redwire, a provider of space infrastructure, announced today that it has successfully 3D bioprinted the first human knee meniscus on orbit using its upgraded 3D BioFabrication Facility (BFF) on the International Space Station (ISS). This milestone opens the door to improved treatments for meniscal injuries, one of the most common injuries for U.S. Service Members.
The print returned to Earth onboard the SpaceX Crew-6 Mission for analysis following successful print operations in July. Before returning to Earth, the print was cultured for 14 days on the ISS in Redwire's Advanced Space Experiment Processor (ADSEP). The print was conducted as part of the BFF-Meniscus-2 Investigation with the Uniformed Services University of the Health Sciences Center for Biotechnology (4D Bio), a biomedical research center that explores and adapts promising biotechnologies for warfighter benefit. The investigation was conducted by NASA astronauts Frank Rubio, Warren "Woody" Hoburg, and Stephen Bowen, and UAE astronaut Sultan Al Neyadi.
BFF is part of Redwire's growing portfolio of technologies and innovative on-orbit capabilities enabling human spaceflight missions and commercial microgravity research and development in low-Earth orbit (LEO). Redwire has developed 20 research facilities for the ISS with 10 currently operating on station to deliver world-leading research. In July, Redwire announced plans to open a 30,000 square foot, state-of-the-art microgravity payload development facility with a mission operations center at the Novaparke Innovation & Technology Campus in Floyd County, Indiana, as the company looks to increase production of critical technologies enabling human spaceflight missions and commercial microgravity research and development in LEO.
On the upcoming SpaceX CRS-29 resupply mission to the ISS in November, Redwire will be launching microgravity research payloads focused on pharmaceutical drug development and regenerative medicine, including an experiment in bioprinting cardiac tissue.