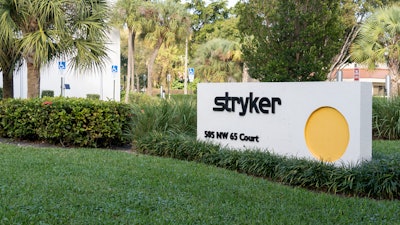 iStock
Stryker announced that its Pangea Systems including Femur, Fibula, Tibia, Humerus and Utility have received 510k clearance from the U.S. Food & Drug Administration.
"FDA clearance is a critical milestone for our Pangea Systems," said Eric Tamweber, Vice President and General Manager, Stryker's Trauma business unit. "With these new systems, we are now offering surgeons a comprehensive portfolio that supports a wide range of their trauma needs."
Designed by the collaborative efforts of world-renowned orthopedic surgeons, the Pangea plates offer an evidence-based design for implant fit. The system was designed to enhance plate fit and screw placement while elevating the plating market through anatomically contoured implants in patient populations with a wide variety of fracture patterns. The intuitive and streamlined instrumentation and implant trays will include 20 anatomic plates and 13 utility plates all accessible in one platform.
The Pangea Systems will be featured at the 23rd Annual Orthopaedic Trauma Association meeting (booth #505) in Seattle on Oct. 18-21. Attendees will have the opportunity to learn more about the portfolio and speak with product experts.