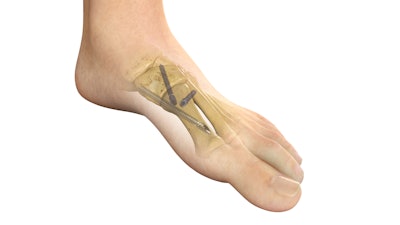 Stryker
Stryker announced the launch of PROstep MIS Lapidus, a new internal fixation system intended for treating bunions using a minimally invasive surgical reduction of hallux valgus deformity and subsequent fusion of the first metatarsal cuneiform joint.
Traditionally, surgeons performing Lapidus bunion procedures use an open approach, but minimally invasive surgery techniques are being adopted in numerous surgical specialties because of the surgeon and patient advantages. PROstep MIS Lapidus offers powerful fixation stability through a minimal incision. The new technology features MIS joint preparation, triplanar reduction, and a three-screw construct designed to create a tension band for biomechanical stability.
"This procedure can be a better option for patients who are worried about cosmetic scarring from surgery and can mitigate the potential loss of correction caused by improper bone healing," said Dr. Alastair Younger, Head of the Distal Extremities Division at the University of British Columbia. "I appreciate having a viable minimally invasive surgery option that provides surgeons and their patients more options for treating bunions."
Benefits of the PROstep MIS Lapidus system include:
2.5% decrease in recurrence compared to open Lapidus procedures
9% reduction in non-union rates as a result of MIS Lapidus joint preparation
76% reduction in scar size compared to open bunion correction procedures
Less opioid usage post-op compared to open Lapidus procedures5
"PROstep MIS Lapidus puts the power back in our surgeon customers' hands to make the best decision for their patients," said Patrick Fisher, Vice President and General Manager for Stryker's Foot and Ankle business unit. "At Stryker, we're continuing to expand our surgery options to support our commitment to advancing minimally invasive foot and ankle surgery."
Stryker will host the PROstep MIS Lapidus Lab at AOFAS on Sept. 21 from 12:30-2:00 p.m., in the Stryker mobile lab at the Exhibit Hall. Design surgeons Dr. Alastair Younger and Dr. Steven Steinlauf will also be available to meet with attendees during the Meet the Experts session to demonstrate PROstep MIS Lapidus, at Stryker's booth no. 101, on Sept. 20 at 5-6 p.m., Sept. 21 at 10-10:45 a.m., and Sept. 22 at 1-2 p.m. ET.
Additionally at AOFAS, Stryker will be debuting the 4WEB Cotton, Evans, and Utility wedge implants and instruments, which are part of the 4WEB Osteotomy Truss System (OTS). Stryker is now the exclusive distributor of the OTS that contains the wedge implants for osteotomies of the foot. OTS has an advanced structural design that incorporates 4WEB Medical's proprietary Truss Implant Technology