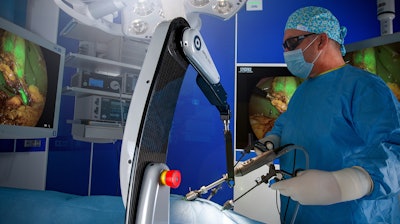 Karl Storz
KARL STORZ Endoscopy-America announced its TIPCAM1 Rubina with ARTip SOLO robotic assistance has received an Innovative Technology designation from Vizient, the largest healthcare performance improvement company in the country.
Each year, healthcare experts serving on Vizient member-led councils review select products and technologies for their potential to enhance clinical care, patient safety, and healthcare worker safety or to improve business operations of healthcare organizations. Innovative Technology designations are awarded to previously contracted products to signal healthcare providers that these innovations can have a positive impact on patient care and business models.
TIPCAM1 Rubina gives surgeons access to 4K imaging in 2D, 3D, and NIR/ICG, all in one video endoscope using ONE system, the KARL STORZ IMAGE1 S. The ARTip SOLO robotic camera guidance system, paired with the TIPCAM1 Rubina, allows the operating surgeon to maintain stability and precise control of the field of view. This improves the environment to train surgeons on technical skills, enabling them to operate alone—which can improve efficiency, thereby lowering overall costs. It also provides ideal ergonomics, especially in long procedures.
Advanced technologies such as 4K 3D and 4K NIR/ICG provide the ability to visualize crucial details during surgery, often resulting in improved safety and outcomes. 3D has shown to improve task completion time by 64% (44 of 69 studies) and reduce errors by 63% (28 of 45 studies), especially where suturing is involved. NIR/ICG can reduce complication rates through assessment of blood flow and visualization of critical anatomy.
Due to the complexities in surgery, having access to different tools can give a surgeon confidence to properly assess and create a safe surgical plan. The unique combination of the TIPCAM1 Rubina and ARTip SOLO allows hospitals to bridge the gap between robotics and laparoscopy by recreating a robotic experience, incorporating advanced technologies that deliver value without the large capital expense.