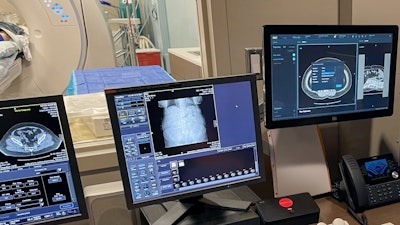 Xact Robotics
XACT Robotics, developer of a robotic system for interventional procedures, announced that its ACE Xtend Remote Control Unit received U.S. Food and Drug Administration (FDA) clearance, allowing users to robotically insert and steer the XACT ACE Robotic System remotely from the control room.
The feature for CT-guided percutaneous procedures is designed to improve physician workflows while limiting physician and other users' exposure to radiation and reduce physical strain.
The comprehensive XACT ACE Robotic System combines image-based planning and monitoring with patented S-Drive technology, which enables the system to adapt from a linear to a non-linear trajectory with its robotic insertion and steering of instruments during interventional percutaneous procedures. It delivers instruments to the designated targets with accuracy, consistency, and efficiency.
The XACT ACE Robotic System has been proven to achieve 1.7mm tip to target average accuracy upon first insertion based on data obtained from company clinical studies for biopsy procedures. By providing accurate and actionable results for medical diagnosis, the system aims to enhance early detection and improve patient outcomes.