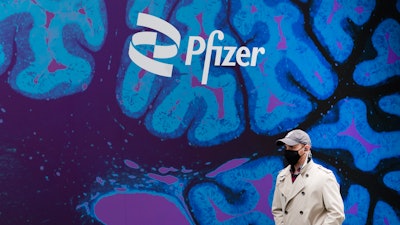 AP Photo/Mark Lennihan, File
Pfizer topped Wall Street expectations Tuesday even as revenue shrank and sales of its top-selling COVID-19 vaccine crumbled as expected in the first quarter.
Comirnaty vaccine sales fell 77% to $3 billion in the first three months of the year, compared with more than $13 billion during the same stretch last year.
Analysts anticipated that drop as the drugmaker shifts from supplying governments through big contracts to selling the vaccine on the commercial market. Pfizer expects sales from Comirnaty to drop 64% this year and revenue from its market-leading COVID-19 treatment Paxlovid to slide 58%.
Sales of Paxlovid actually jumped past $4 billion in the first quarter, largely due to the timing of a final delivery for Pfizer's U.S. government contract.
The company said Tuesday that it also expects significantly lower sales from its vaccine and treatment in the second quarter compared to the first. But commercial sales are expected to kick in later this year, after leftover government inventory is absorbed.
Both the vaccine and treatment have generated billions in revenue for Pfizer over the last several quarters. But the drugmaker also produces other vaccines and is expanding its cancer treatments.
Revenue grew 4% to $1.6 billion in the first quarter from Pfizer's Prevnar vaccines for preventing pneumonia and related bacterial diseases. Sales of Eliquis, which is used to prevent blood clots and strokes, also grew 5% to $1.87 billion.
The drugmaker's research and development costs also climbed 9% in the quarter, as Pfizer prepared for some upcoming product launches. The company expects to launch several products in the year's second half, including a vaccine for the respiratory illness known as RSV.
Overall, Pfizer's net income sank 30% to $5.54 billion in the first quarter, with adjusted results totaling $1.23 per share.
Total revenue fell 29% to $18.28 billion.
Analysts expected earnings of 98 cents per share on $16.61 billion in sales, according to FactSet.
Pfizer also reaffirmed its forecast for full-year earnings to range between $3.25 and $3.45 per share. That forecast initially fell short of Wall Street expectations when Pfizer released it in January.
FactSet says analysts now expect earnings of $3.39 per share.
Pfizer said in March that it would spend about $43 billion to buy biotech drug developer Seagen, which specializes in developing cancer treatments. Company officials said Tuesday that deal remains on track to close either by the end of this year or in early 2024.
Shares of New York-based Pfizer Inc. edged up 31 cents to $39.51 after markets opened Tuesday while broader indexes slipped.