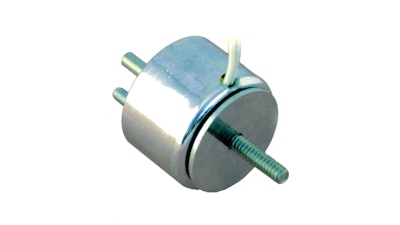 Magnetic Sensor Systems
Magnetic Sensor Systems (MSS; Van Nuys, CA) has released 18 low-profile Push/Pull Clapper Solenoids with the ampere turns (windings) adjusted to meet the specific force and duty cycle requirements of an application. The S-66-100 Series of Low-Profile Clapper Push/Pull Type Solenoids from MSS are just 1.00 in. in diameter and 0.66 in. deep. These compact solenoids have a 0.40 in. stroke and can be operated at a variety of duty cycles (voltage dependent) and are the ideal choice for: Medical dispensing, plotters, clutches, switches, mixing, valve control, vending machines, games, fire suppression systems, cabinet locks, door controls, and sorting equipment.
Supplied with 4 inch leads, mounting is via two 4-40 UNC or M3 x 0.5 threaded studs 0.25 inches long on a 0.656" in bolt circle. The pull end of the shaft features a 6-32 thread 0.50 in. long. The push end is 0.125 in. in diameter. Ideal for short strokes, pull force versus stroke between 0.10" and zero stroke range from 75 oz to 190 oz at 10% duty cycle and from 8 oz to 118 oz at 100% duty cycle.
A low friction brass guide and stainless steel shaft assures exceptionally long life.