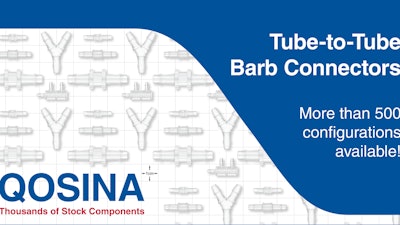 Qosina
Qosina, a global supplier of OEM single-use components to the medical and pharmaceutical industries, is pleased to introduce 25 new tube-to-tube barb connectors to its portfolio.
Qosina has an extensive inventory of tube-to-tube barb connectors offered in more than 500 configurations. These connectors accommodate inner tube diameters as small as 1/32 inch (0.031inch, 0.8 mm) and as large as 1 inch (25.4 mm).
Select from a variety of styles including reducing and non-reducing, Y, cross, elbow, T, straight and barbs with luer connectors. Available materials include Kynar, PP and PC.
Qosina is a one-stop source for single-use medical device and bioprocess components, with low minimum order quantities, a liberal sampling policy and bill of material kitting, all supported by regulatory documentation and backed by Qosina's Assurance of Supply.