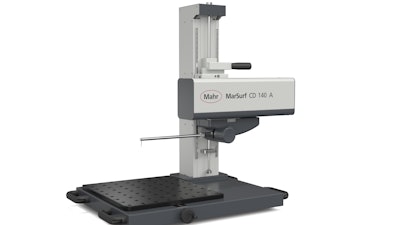 Mahr
Mahr has launched MarSurf CD 140 AG 11, a new machine that enables fast and precise contour measurements. Its unique, intelligent probe system has a 350 mm arm, a measuring range of up to 70 mm, and a magnetic stylus tip holder that makes it easy to change probe tips without tools or recalibration.
MarSurf CD 140 AG 11 features an automated calibration routine for probe arms and a flexible workpiece holder that makes it easy to handle. Automatic tracing force selection assures the proper force is used when replacing several stylus tips.
Operators can choose from a comprehensive range of clamps and workpiece holders, and this versatile machine can also be used to obtain roughness measurements (Rz>2µm).
X-axis with maximum measuring range
The high-speed X-axis of the new MarSurf CD 140 AG 11 contour measuring machine is designed for a large measuring range of 140 mm and has an X-axis traversing speed up to 200 mm/s. The Y-axis can be adjusted manually with a traverse path of 60 mm. Quick adjustment of the Z-axis, in turn, is performed with a handle. In addition, located above and below the Z-axis is the fine adjustment with which the X-axis can be moved up and down.
Intuitive contour measurements with MarWin software
The integrated MarWin software enables simple, intuitive contour measurements and evaluation. Measuring programs are easy to create with MarWin, and numerous measuring tasks such as determining radii, arc lengths, distances, angles, etc., are already preprogrammed in the new MarSurf CD 140 AG 11. It features a patented "Tangential Elements" function that supports simple, operator-independent evaluation of tangential transitions between radii and straight lines.
Stationary or mobile
Mahr's new contour measuring device can be used both in the lab and directly at the workpiece. Pluggable guide stops and a wide range of available, standardized clamping devices and workpiece fixtures allow flexible positioning of test specimens with the MarSurf CD 140 AG 11.
The 390mm x 450mm support plate with a 50mm bore grid is also suitable for large-volume workpieces, and existing workpiece fixtures can be used.
MarSurf CD 140 AG 11 is ideally suited for applications in mechanical engineering, production-related measuring, the automotive industry and medical technology.