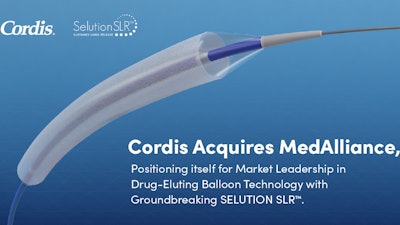 Cordis
Cordis today announced its acquisition of MedAlliance, a Switzerland-based company specializing in drug-eluting balloons.
By acquiring MedAlliance, Cordis has the potential to serve two million patients globally by 2027 with the SELUTION SLR (Sustained Limus Release) drug-eluting balloon. The agreement includes an initial investment of $35 million and $200 million payment upon closing in 2023, regulatory achievement milestones up to $125 million and commercial milestones up to $775 million through 2029. Cordis will immediately begin co-promotion of MedAlliance's SELUTION SLR drug-eluting balloon in markets where it is commercially available.
The SELUTION platform uses spherical MicroReservoirs made from biodegradable polymer mixed with the drug to control the sustained release of sirolimus. The continuous manufacturing process produces millions of precisely formed, miniature drug delivery systems.
SELUTION SLR received CE Mark Approval for the treatment of peripheral artery disease in February 2020 and for the treatment of coronary artery disease in May 2020. In addition, MedAlliance has obtained Investigational Device Exemptions for peripheral below the knee (BTK) and superficial femoral artery (SFA) interventions. Two IDE clinical studies are already underway. To date, approximately 10,000 patients have benefitted from SELUTION, including 9,200 commercial units and over 2,000 patients treated in clinical trials.