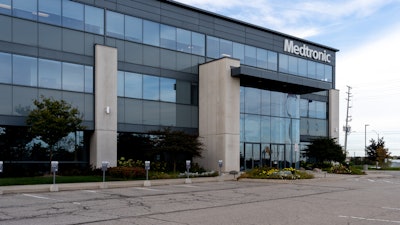 iStock
Medtronic has received CE Mark for the Aurora EV-ICD MRI SureScan (Extravascular Implantable Cardioverter-Defibrillator) and Epsila EV MRI SureScan defibrillation lead to treat dangerously fast heart rhythms that can lead to sudden cardiac arrest. The Aurora EV-ICD system provides the life-saving benefits of traditional ICDs while avoiding certain risks because its lead (thin wire) is placed outside the heart and veins. The Aurora EV-ICD system is investigational in the United States.
Patients implanted with the Aurora EV-ICD system have defibrillation, anti-tachycardia pacing (ATP), and back-up pacing therapies available to them via a single implanted device that is similar in size, shape, and longevity to traditional ICDs. The system approval also includes proprietary procedure implant tools. The Aurora EV-ICD system is expected to be commercially available in autumn 2023 in select countries in Europe.
ICDs are highly effective in providing life-saving therapy for patients at risk of sudden cardiac arrest (SCA), an electrical problem with the heart stemming from a dangerously fast heart rate (ventricular tachycardia or ventricular fibrillation). If not treated immediately, SCA can be fatal. Traditional, transvenous ICDs are implanted in the chest and attached to leads that are threaded through the veins into the heart to sense the heart's electrical signals and deliver therapy to terminate a potentially fatal arrhythmia, restoring the heart's normal rhythm.
The Aurora EV-ICD is implanted below the left armpit (in the left mid-axillary region) and the Epsila EV lead is placed under the breastbone (sternum) using a minimally invasive approach. Placing the lead outside of the heart and veins is designed to help avoid long-term complications that may be associated with transvenous leads, such as vessel occlusion (narrowing, blockage or compression of a vein) and risks for blood infections.
CE Mark approval follows the Extravascular Implantable Cardioverter Defibrillator (EV ICD) Pivotal Study meeting its safety and effectiveness endpoints;1 data was presented as late breaking science at the European Society of Cardiology (ESC) 2022 and simultaneously published in The New England Journal of Medicine.
In the global pivotal study, the device's effectiveness in delivering defibrillation therapy at implant was 98.7%. This reflects a greater defibrillation efficacy for the EV-ICD than historical transvenous ICD studies,122-5 and comparable efficacy to the subcutaneous ICD despite EV-ICD's smaller device size.6 Further, the efficacy of ATP – which paces the heart to interrupt and terminate a dangerous rhythm, potentially avoiding a defibrillation shock – in the EV ICD study was comparable to ATP efficacy in transvenous defibrillators.7,8 In total, 33 shocks were avoided by having ATP programmed "on."
Additionally, at six months, 92.6% of patients (Kaplan-Meier estimate) in the pivotal study were free from major system and/or procedure-related major complications such as hospitalization, system revision, or death. There were no major intraprocedural complications, nor any unique complications observed related to the EV-ICD procedure or system.