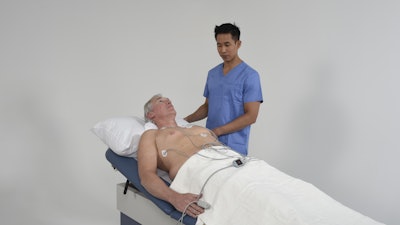 CorVista Health
CorVista Health, Inc., a digital health company dedicated to improving cardiovascular disease diagnosis, announced the FDA clearance of the CorVista System with CAD Add-On to evaluate the presence of significant coronary artery disease as an aid in diagnosis.
The CorVista System is a non-invasive medical device system comprised of hardware and software components that are designed to work together to allow a physician to evaluate the patient at point-of-care for cardiac disease using a static machine-learned detection algorithm. The CAD Add-On is the first of the company's anticipated suite of cardiac detection algorithms to receive market clearance.
The CorVista System is indicated to analyze sensor-acquired physiological signals of patients presenting with cardiovascular symptoms (such as chest pain, dyspnea, fatigue) to indicate the likelihood of significant coronary artery disease. The analysis is presented for interpretation by healthcare providers in conjunction with their clinical judgment, the patient's signs, symptoms, and clinical history as an aid in diagnosis.
The clearance was based on an extensive blinded clinical validation dataset (N=1,816), collected through the IDENTIFY study, showing performance in identifying significant CAD with sensitivity of 88% and specificity of 51%. These results are comparable to the rule out performance of coronary computed tomography angiography (CCTA)1. Additionally, this performance is maintained in the currently underserved female population. This milestone follows the announcement of receiving FDA Breakthrough Designation for the company's second disease specific Add-On module in development focused on pulmonary hypertension.