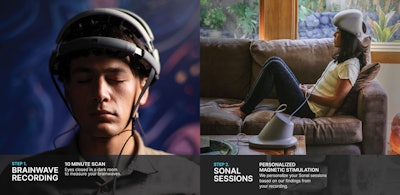 Business Wire
Wave Neuroscience is partnering with Arkos Health — a risk-bearing medical group delivering virtual and in-home clinical services under value-based arrangements — to offer its at-home Braincare technologies to Medicaid beneficiaries in Arizona. The program will launch on May 2 in Maricopa, Pima, Pinal and Yuma counties, with expansion planned to other counties and states in the future.
As part of Arkos Health's mobile behavioral health program, care teams will bring Wave Neuroscience's Braincare assessment tools and Braincare technology directly to those who need it. By providing care in-home, the program removes barriers to entry such as transportation to a care facility and time off work to seek treatment. Patients will be using Sonal, Wave Neuroscience's at-home device that uses personalized magnetic fields to reshape brainwaves and optimize function to effectively improve health for general well-being.
"While the foundation of our technology was developed for 'at-risk' clinical populations, this version has been widely adopted by high-performance organizations for the purpose of optimization and improved wellness. Our work with Arkos Health furthers our mission to provide the most impactful Braincare Technologies and Services to anyone, anywhere. We look forward to the continued success and expansion of this program,' said Fred Walke, CEO of Wave Neuroscience.
The collaborative initiative addresses a growing need for improvements in overall wellness and provides care where and when it is needed while mitigating hospital stays and treatment plans. Members in Arkos Health care programs have a 41% reduction in hospital readmission rates and a 64% reduction in emergency department readmission rates, through their "Care Anywhere" method.
"Our focus at Arkos Health is to provide community-based services that improve health access to care and reduce costs associated with unnecessary inpatient and emergency department visits. Depression, substance abuse, and PTSD are massive health issues in the populations we serve, and, when left unmanaged, cause poor outcomes and dramatic increases in health expenditures," said Dr. Amish Purohit, Arkos Health Co-Founder and President of Population Health Services. "By including Wave Neuroscience's technology with our mobile behavioral health program, we are engaging patients proactively in their homes with a multi-disciplinary approach and innovative technology that's proven to have a positive impact on mental wellness leading to optimal physical health as well."