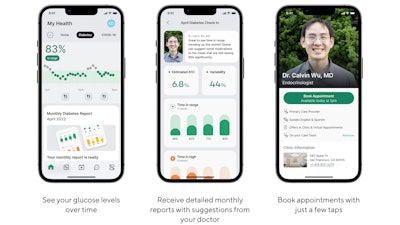 Carbon Health
Carbon Health, a national healthcare provider, is launching a new diabetes program that offers an omnichannel care approach to diabetes management that combines at-home continuous glucose monitoring (CGM) devices with direct access to an interdisciplinary care team available in-person and virtually. The program represents the full integration of Steady Health, a virtual diabetes care provider Carbon Health acquired in June 2021, which enables Carbon Health to adopt CGM-based care as the standard for diabetes management.
With the full integration of Steady Health, Carbon Health is able to simplify diabetes management with CGM monitoring and logging that provides a better picture of a patient's health in one experience for both patients and providers. All data is collected and aggregated with the patient's medical record in the Carbon Health Electronic Medical Record (EMR) where all members of the care team–including endocrinologists, diabetes educators, and primary care providers–can collaborate on the patient's care plan and ongoing management.
CGM data allows Carbon Health providers to manage glucose control and time in range more effectively, a key metric and surrogate for A1c that the American Diabetes Association recognized for the first time in its 2022 standards of care as offering superior insights for personalizing a patient's diabetes management plan.
Carbon Health has partnered closely with Abbott and Dexcom to integrate CGM data into Carbon Health's EMR and patient app, making the data accessible for both patients and providers. Carbon Health providers can see patient-generated logs of meals, exercise, and medications overlaid against continuous data of glucose values to drive smarter care recommendations and treatment decisions.
"There is severe fragmentation within the U.S. healthcare system, putting enormous pressure on patients and providers: there are broken handoffs between medical professionals, information is siloed, and providers aren't able to provide holistic, continuous care," said Myoung Cha, Chief Strategy Officer and President of Omnichannel Care at Carbon Health. "We are launching our diabetes program to eliminate these broken handoffs while also transforming chronic care management and setting the standard of omnichannel care not only for ourselves, but for the entire industry."
"Our pilot program proved patients with uncontrolled diabetes can achieve significant glycemic improvements by working with CGMs and a virtual multidisciplinary care team to provide continuous clinical feedback and support," said Dr. Calvin Wu, Medical Director of Virtual Diabetes Care and endocrinologist at Carbon Health. "Our diabetes program will truly revolutionize chronic care management and we look forward to seeing the impact increase as we scale."