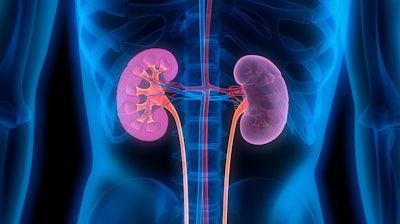 iStock
Medtronic and DaVita today announced the intent to form a new, independent kidney care-focused medical device company to enhance the patient treatment experience and improve overall outcomes.
By bringing together Medtronic's capabilities as a healthcare technology provider and DaVita's expertise as a kidney care provider, the new company will be uniquely positioned to advance the development of differentiated therapies for patients with kidney failure. The company will focus on developing a broad suite of novel kidney care products and solutions, including future home-based products, to make different dialysis treatments more accessible to patients.
"This is an exciting moment that will shape the future of kidney care," said Ven Manda, president of Medtronic's RCS business and NewCo's CEO upon close. "Our singular focus on end-to-end kidney health solutions will position this new company to make a measurable difference in the lives of more than three million patients with kidney failure globally—a figure expected to double over the next decade."
"We're excited to collaborate with Medtronic and share our deep insight into patient and physician needs with the goal of accelerating the development and commercialization of scalable kidney care technologies," said Javier Rodriguez, CEO for DaVita. "DaVita is committed to best-in-class solutions that improve outcomes, access and the quality of life of our patients, and this is another way to provide more options to the market."
Under the terms, the new company will be co-owned by Medtronic and DaVita, each with equal equity stakes, and led by an independent management team. Medtronic will contribute its Renal Care Solutions (RCS) business including the current product portfolio (renal access, acute therapies, and chronic therapies), product pipeline, and global manufacturing R&D teams and facilities. No other Medtronic products or portfolios, including those in the AV access portfolio in the Peripheral Vascular Health business, are included. Both companies will provide an initial investment to fund NewCo and future certain operating capital.
The new company, which will be renamed and rebranded at close, will operate as an independent company governed by a six-person board of directors composed of two directors each from Medtronic and DaVita, and two independent directors.
The transaction is expected to close in the next calendar year, subject to the completion of the information and consultation obligations with employee representative groups under applicable laws and receipt of customary regulatory approvals and satisfaction of customary closing conditions.