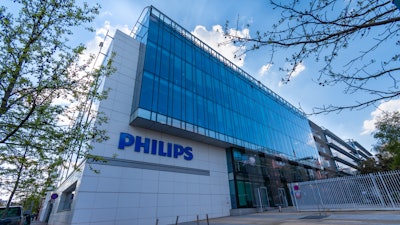 iStock
The FDA provided an update on Philips' voluntary recall to address potential health risks related to the polyester-based polyurethane (PE-PUR) sound abatement foam in certain CPAP, BiPAP and mechanical ventilator devices.
Since June 2021, Philips Respironics said it has received a steep increase in complaints allegedly associated with possible foam degradation. The original 30 Medical Device Reports (MDR) submitted to the FDA between 2011 and June 2021 has now grown to more than 20,000 along with 124 reports of death.
"The MDRs received included both mandatory reports from Philips and voluntary reports from health professionals, consumers, and patients. A wide range of injuries have been reported in these MDRs, including cancer, pneumonia, asthma, other respiratory problems, infection, headache, cough, dyspnea (difficulty breathing), dizziness, nodules, and chest pain," the FDA wrote in an update.
Philips noted that the submission of an MDR itself is not evidence that the device caused or contributed to the adverse outcome or event, and that the cause of an event cannot typically be determined from this reporting system alone, but still pledged to investigate all allegations of device malfunction, death or serious injury.
"We regret any concern or inconveniences caused by this field action and we are committed to supporting the community of patients who rely on our sleep and respiratory care solutions for their health and quality of life, and the physicians and customers who are dedicated to meeting patient needs," said David Ferguson, Business Leader of Philips Respironics, in a statement. "We are replacing or repairing the devices related to the Respironics field action as fast as possible and are continuing to update patients and customers about the progress of the program. More than 1,000 of our colleagues are working around the clock on every aspect of the remediation."