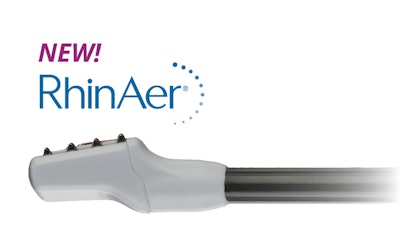 Business Wire
Aerin Medical, a company that provides Ear, Nose and Throat (ENT) physicians with non-invasive solutions to treat chronic nasal conditions, announced U.S. Food and Drug Administration (FDA) 510(k) clearance and launch of a next-generation RhinAer stylus.
RhinAer is a temperature-controlled radiofrequency technology that treats the causes of rhinorrhea (runny nose), post-nasal drip and congestion associated with chronic rhinitis in a single session. The new RhinAer is designed to provide physicians with improved visualization, easier access and tissue apposition, especially in patients with narrow nasal airways.
The new RhinAer is the result of close collaboration and feedback between Aerin Medical and otolaryngologists, with multiple enhancements intended to make the device easier to use. RhinAer's new lower-profile stylus has been modified with a slimmer shaft and tip to improve visualization and access. Additionally, the tip now tilts backward 10 degrees, and the shaft is more malleable, which allows for easier tissue apposition during procedures.