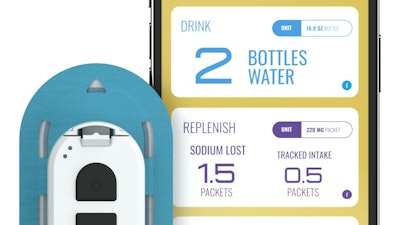 Epicore Biosystems
Epicore Biosystems, a digital health company developing advanced sweat-sensing wearables to provide real-time personalized hydration insights for performance and safety, today announced that it will unveil its new Connected Hydration sweat patch and mobile app at the 2023 Consumer Electronics Show (CES) from Jan. 5-8.
The first wearable to continuously measure sweat fluid and electrolyte losses while monitoring skin temperature and movement, Connected Hydration is designed for industrial athletes working on the frontlines of labor-intensive industries such as energy, clean tech, construction, mining, utilities, agriculture, trucking, warehouse packaging, and more. Through real-time alarms and vibrations onboard the device, Connected Hydration alerts wearers when their fluid loss exceeds 2% of body weight to prevent dehydration.
Epicore Biosystems is introducing Connected Hydration and its advanced features at a critical time as climate change worsens, temperatures rise, and industrial working conditions intensify. The harmful effects of high temperatures diminish physical and cognitive performance, leading to a staggering 170,000 work-related injuries and 2,000 fatalities annually in the United States. The increasing temperatures also reduce productivity, with total global labor productivity expected to decrease by more than 18% if temperatures rise by 1-3 degrees Celsius. Excessive environmental heat also takes a financial toll, costing employers upwards of $79,000 in worker compensation per affected worker.
Connected Hydration consists of a flexible wearable patch, a mobile application, and a cloud engine. Unlike most wearables on the market, Connected Hydration has an extended battery life that extends over 1,000 hours and never requires charging. Epicore Biosystems offers a complimentary coin-cell battery swap service, creating an eco-friendly and seamless user experience.