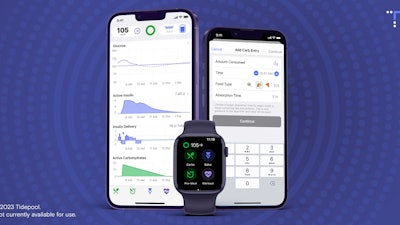 Tidepool
Tidepool, a 501(c)3 nonprofit, today announced the FDA clearance of Tidepool Loop, an automated insulin dosing app intended for the management of type 1 diabetes (T1D) in persons six years of age and greater.
Tidepool Loop, a patient-led project, is the first application of its kind to receive clearance from the FDA, and is also the first to enable insulin delivery from a compatible Apple Watch. The algorithm technology in Tidepool Loop is intended for use with compatible integrated continuous glucose monitors (iCGM) and alternate controller enabled (ACE) pumps to automatically increase, decrease, and suspend delivery of basal insulin based on iCGM readings and predicted glucose values. It can also recommend and deliver correction boluses when glucose values are predicted to exceed predefined thresholds.
Tidepool Loop can now serve as a predicate device for future interoperable Automated Insulin Dosing (AID) submissions, providing a more clearly defined pathway through the regulatory process. This work was supported by grants from JDRF, The Helmsley Charitable Trust, the Tullman Foundation, and a diverse community of individual funders impacted by their experience with diabetes.
With the clearance of Tidepool Loop, the organization is now finalizing agreements with device partners to create an experience for both physicians prescribing Tidepool Loop and the patients using it. Though Tidepool's initial launch device partners have not been announced, the company has a development partnership with Dexcom (DXCM) and additional yet-to-be-named medical device companies for future inclusion of their components with the Tidepool Loop platform.