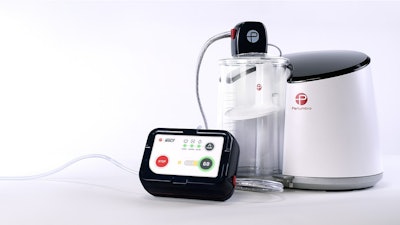 Penumbra
Penumbra announced FDA clearance and launch of Lightning Bolt 7, a new arterial thrombectomy system. Lightning Bolt 7 introduces a new method for removing blood clots, modulated aspiration, which pairs Penumbra's Lightning Intelligent Aspiration technology with an advanced microprocessor algorithm. When used together, Lightning Bolt 7 is designed to enhance the ability to rapidly remove large, fibrous blood clots in the arteries with minimal blood loss, addressing conditions such as acute limb ischemia (ALI), hibernating thrombus and visceral occlusions.
Powered by the Penumbra ENGINE, Lightning Bolt 7 is engineered to detect the difference between blood clot and blood flow. Additionally, it is designed to identify friction within the catheter and orchestrate the rapid opening and closing of the valves to disrupt any resistance between the clot and the catheter tip. This facilitates maximum vacuum force at the catheter tip for optimal, rapid ingestion of blood clots. Lightning Bolt 7 is compatible with Penumbra's arterial catheters, which are made with MaxID hypotube technology, allowing a larger inner diameter while maintaining a lower profile and a soft, atraumatic tip design to maximize the circumferential sweep in the artery.
Lightning Bolt 7 received FDA clearance and became available in March 2023. It is part of Penumbra's Indigo System with Lightning portfolio, which are the only computer-aided mechanical thrombectomy systems currently available in the U.S. Prior to the availability of Lightning Bolt 7, data with the Indigo System have shown excellent 30-day limb salvage rates in more than 98% of patients, short procedure times with an average of 22 minutes and low 30-day mortality at 3%.