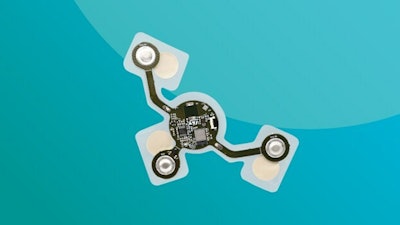 DuPont
DuPont today announced that DuPont Liveo Healthcare Solutions is collaborating with STMicroelectronics, a global leader in semiconductor technology serving customers across the spectrum of electronics applications, to develop a new smart wearable device concept for remote biosignal-monitoring.
By collaborating with others across the healthcare ecosystem – from technology developers and material suppliers to device fabricators and OEMs – DuPont is developing more patient-centric solutions that contribute to better patient outcomes.
Through this collaboration, DuPont brings a broad range of medical patch technologies, including DuPont Liveo Soft Skin Conductive Tape 1-3150 – a silicone-based thermoset adhesive for sensing and transferring electrical biosignals, and Liveo Soft Skin Adhesives.
ST's sensor and embedded development technology and semiconductor manufacturing expertise, combined with the key benefits of silicone technology with electrically conductive properties allow Liveo Soft Skin Conductive Tape technology to be used as a skin electrode for biosignal-monitoring applications where good skin conformability, no drying over time, and repositionability with gentle adhesion and atraumatic removal is vital. It can be used in single electrodes for short-term monitoring, as well as in medical wearable patches for long-term monitoring lasting seven or more days.
DuPont also designed the layout for the Liveo Smart Biosensing Patch and supplied rapid prototyping capabilities.
The result of this collaboration is not just a single prototype, but a robust ST-empowered Liveo Smart Biosensing Patch technology toolbox for remote ECG and SCG monitoring.
The DuPont and ST integrated patch technology is designed to improve people's lives, making it easier to use than typical rigid box designs. It's smaller, lighter, and more comfortable and can be worn longer. Plus, the sensors are multifunctional, intelligent, and adaptable, and the data provided is extremely stable.
DuPont will demonstrate the capabilities of the Liveo Smart Biosensing Patch prototype at the MEDICA Trade Fair in Dusseldorf, Germany, November 13-16. The Liveo team will be in Hall 12/D33 in the Wearable Technologies Pavilion.
As part of the MEDICA Connected Healthcare Forum, DuPont Liveo Healthcare Solutions Global Strategic Marketing Manager Jennifer Gemo and ST's Head of EMEA Healthcare and Well-Being Vertical Strategic Business Development Oriana Di Marco will present "Towards intelligent e-skin patches for cardiac monitoring" featuring the DuPont/ST collaborative patch concept and technology toolbox. The presentation will take place on Nov. 14 from 12:15 to 12:35 p.m. CEST in Hall 12/E37.
DuPont offers a broad portfolio of high-performance, medical-grade elastomers, adhesives, resins and thermoplastics designed to meet the rigorous requirements of wearable medical devices. The company also provides support in the areas of materials research, application development, technology, safety and regulatory compliance.