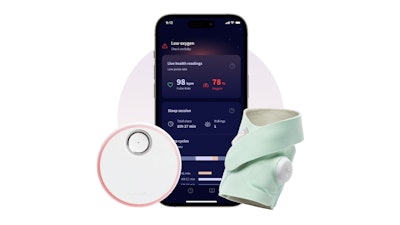 Owlet
Owlet announced De Novo clearance from the FDA of Dream Sock, an over-the-counter medical pulse oximetry solution for infants.
The FDA-cleared Dream Sock will monitor and display baby's live health readings, including pulse rate and oxygen saturation level, and will provide health notifications, which will alert caregivers with lights and alarm sounds if their infant's readings fall outside of preset ranges. Owlet plans to make these new medical-grade features available to all existing and new Dream Sock users upon launch, soon to be announced. These cleared features are for use with healthy infants between 1-18 months and 6 lbs to 30 lbs.
"Today marks a significant breakthrough in our journey to bring care to the home and empower parents with an unprecedented FDA-clearance for the Owlet Dream Sock," said Kurt Workman, Owlet Chief Executive Officer and Co-Founder. "This accomplishment not only signifies our commitment to innovation in the infant health category but, more importantly, our dedication to ensuring the health and well-being of every baby. With this De Novo clearance, we are proud to set new standards in at-home infant care, arming parents with reliable real-time information and providing enhanced peace of mind."
Achieving De Novo clearance means the Owlet Dream Sock was clinically tested in both home and hospital environments, and proven to be as accurate as medical-grade baby monitoring technology and compliant with all relevant performance and safety standards by independent laboratories. This new technology will equip caregivers with the right information at the right time, and provide them with confidence and clarity on their baby's well-being.
"We're all so proud that the Dream Sock was validated against the gold standards of accuracy for pulse oximetry devices – and stood up to that challenge," said Dr. Alisa Niksch, Pediatric Cardiologist and Senior Director Medical Affairs at Owlet. "Throughout this process, we learned a tremendous amount about the capabilities of our product in supporting the care of babies in the home. We're excited to continue our research efforts as we bring new technologies and advancements in accuracy in infant monitoring to parents."
This follows the Company's previous FDA clearance of BabySat, a prescription monitoring system that uses pulse oximetry technology and features a modern, wire-free sock design. Intended for infants with acute or chronic medical conditions under the supervision of a physician, BabySat provides a real-time display of a baby's pulse rate and oxygen saturation level, and alerts parents when these customizable readings fall outside of prescribed ranges. BabySat will be available for purchase with insurance reimbursement soon. Now, Owlet's clinically-validated technology and notification algorithms are available for use with healthy babies without a prescription.
These new FDA-cleared features will begin rolling out to both existing and new Dream Sock users by the end of this year, in the U.S. only.