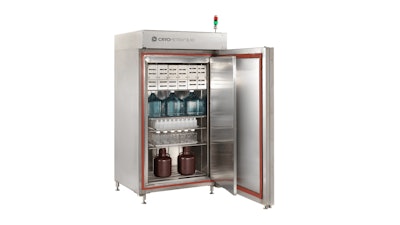 Reflect Scientific, Inc.
The biotech and biopharma industries utilize freezers to rapidly freeze and store thermally sensitive products such as vaccines and biopharmaceuticals as well as biological materials such as blood plasma. However, conventional compressor-based systems can take hours to reach an ultra-low target temperature, which slows production throughput.
For these industries, the availability of cryogenic, liquid nitrogen (LN2) blast freezers that reliably lower the temperature to -90°C in minutes can significantly increase production throughput, compared to conventional compressor-based systems.
The product can then be transferred to long-term storage or the next process step. The quicker the product is frozen to the desired temperature, the faster the production.
When San Diego Blood Bank in San Diego, CA sought to improve its process, it turned to upright liquid nitrogen (LN2) cooled plasma flash freezers and documented the successful results compared to a modern traditional freezer.
"The LN2 freezer offers increased load capacity (456%) and throughput (317%) in freezer-to-freezer comparisons at maximum load," as well as demonstrating a return on investment (ROI) of 28.5 months, according to a study authored by W. Davey and T. Bartczak with San Diego Blood Bank's Development & Research Services.
In contrast with traditional equipment, the LN2 blast freezers are also designed to eliminate the need for compressors and refrigerants, so perform with greater reliability and energy efficiency as well as reduced maintenance.
To further facilitate throughput in space constrained production areas, some advanced units are designed to "do double duty" by rapidly thawing product when required.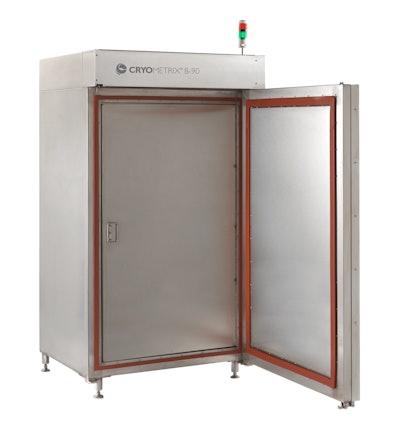 Quick Freeze
When rapidly freezing a large quantity of pharmaceutical product or biological materials is essential, not all methods are equal to the task. Conventional freezers circulate refrigerants to cool products, but LN2 blast freezers begin with a dramatically lower temperature coolant, so can achieve considerably lower temperatures much faster.
"Liquid nitrogen units cool faster because LN2 has a boiling point of -196°C, enabling freezers that utilize it to cool to temperatures as low as -196°C. Most refrigerants have boiling points higher than -100°C, making it difficult for the compressor-based freezers using them to operate at temperatures below that. The key difference is starting off with a much cooler carrier gas," said Kim Boyce, President of Reflect Scientific, Inc. (symbol: RSCF), an Orem, Utah-based manufacturer that develops and markets innovative, proprietary cryogenic cooling technologies for the biotechnology, pharmaceutical, medical and transportation markets.
The company has more than 30 patents relating to the use of liquid nitrogen with low-temperature freezers, chillers and refrigerated systems.
"Many blast freezers also use metal plates to freeze product, severely limiting their use to thin, flat objects," added Boyce. "Others inject LN2 directly into the payload bay, risking harmful exposure to the product. A more versatile, efficient approach allows blast freezing anything that can fit inside with LN2 cooled air."
As an example, the Cryometrix B-90 blast freezer by Reflect Scientific utilizes safely contained liquid nitrogen at -196°C to freeze products with cooled air. The system is designed so there is no contact between the LN2 and the operator or product, which helps to ensure safety and product quality.
Since the system is designed with eight fans adjacent to a heat exchanger, it can cool product inside from 20°C to -90°C in less than 10 minutes. The temperature is adjustable from +40°C to -90°C, with temperature uniformity of ± 3°C throughout.
To ensure product quality, the B-90 provides state-of-the-art temperature and data logging, which can be easily accessed through a touch screen or downloaded to a computer. The latest software upgrade allows up to 250 users and 8 security levels. Managers can easily control who can open the freezer, change the setpoint and adjust the setting.
Unlike compressor-based units that exhaust heat into the room, the blast freezers do not require additional HVAC systems to cool the ambient temperature to operate.
In the San Diego Blood Bank study, the blood bank found significant production and maintenance advantages utilizing a Cryometrix LN2 cooled plasma flash freezer instead of traditional options.
According to the study, conventional plasma freezing methods have typically included blast freezers with heavy duty compressors, walk-in freezers and use of dry ice. Freezers may have remote mounted or smaller on-board compressors and utilize single or two-stage refrigeration systems.
The mechanical systems, with many moving parts, increase maintenance costs. As the systems age, the units experience failures requiring service and requalification.
"The LN2 freezer is a novel approach that is expected to increase freezer load capacity/throughput, reduce cost of operation including maintenance/repair costs and be more environmentally friendly," stated the San Diego Blood Bank study.
The study included an evaluation of the Return-on-Investment (ROI), comparison of load capacity and throughput and a validation including installation qualification (IQ), operational qualification (OQ) and product qualification (PQ).
The OQ consisted of a 10-point temperature mapping of the LN2 freezer, validation of freeze cycle times for selected load sizes and achieving a core plasma unit temperature of ≤ -30°C.
In terms of capacity and throughput, the study stated that the modern traditional mechanical freezer tested had a maximum load capacity of 36 units of blood plasma, with a 90-minute cycle time and 24 units/hour throughput.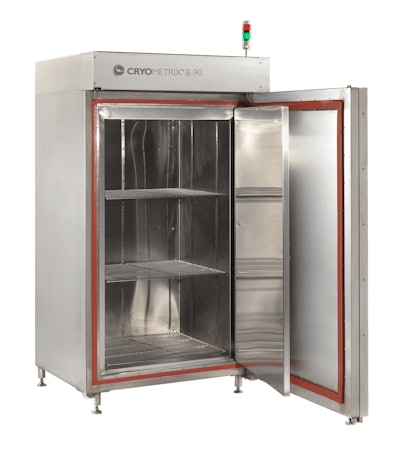 In contrast, the new LN2 cooled flash freezer demonstrated a maximum load capacity of 200 units, with a 120-minute cycle time and 100 units/hour throughput.
In fact, current "second generation" blast freezers have double the capacity of the original freezers, allowing a maximum load capacity of 400 units.
Additionally, there were operational benefits from this approach. According to the study, the LN2 freezer "reduces costs by eliminating traditional refrigeration related mechanical systems…replaces most of the electrical power usage with LN2 cooling…and eliminates use of refrigerants that are harmful to the environment."
Another unique aspect of the Cryometrix LN2 blast freezers is the option to add a rapid thawing capability up to 40°C in the same machine, which can streamline production and make the most of constrained operating space.
With this option, the end user does not need two separate machines but can perform both rapid freezing and thawing procedures with one unit as required.
According to Boyce, after the study the blood bank ultimately increased its throughput by about eight-fold by switching to a rapid cooling blast freezer. The blood bank could have replaced ten large mechanical blast freezers, along with a large roof-top compressor, with just two Cryometrix B-90 blast freezers, said Boyce.
Although companies with biological products have long been constrained by the relatively slow traditional rate of freezing stored materials, advanced blast freezers can cut that to a fraction of the required time, substantially increasing production.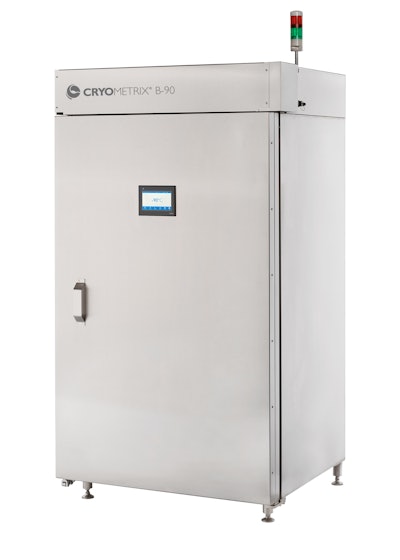 With no compressors or condensers as well as minimal moving parts, these freezers can also significantly reduce maintenance and energy use, facilitating a fast ROI.