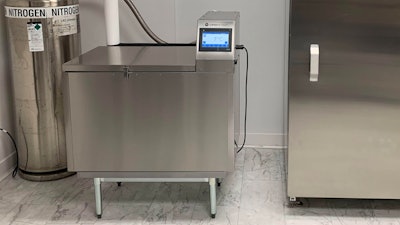 Reflect Scientific
Pharmaceutical manufacturers often require cryogenic blast freezers that can rapidly freeze and subsequently thaw thermally sensitive materials in the R&D phase for new drugs, vaccines and biological products.
It is important to establish the temperature profile of these materials to determine how product will respond to expected fluctuations in temperature during transport, storage and many stages of distribution.
Blast freezers are also utilized to store blood plasma, cryoprecipitate, vaccines and other substances, as well as being used in production.
However, R&D facilities typically lack the resources to purchase production-level blast freezers, which are often too costly and large for the needs of a lab. Instead, researchers need cost-effective, high-performance benchtop units for quick experimentation in space-constrained areas.
Fortunately, industry innovators have developed mini blast freezers that can lower the temperature far below conventional levels in minutes as well as promptly thaw as needed, while accommodating packaging sizes from 2 mL - 6 L or more.
The compact liquid nitrogen (LN2) freezers also facilitate experimentation with adjustable temperature profile recipes that help to automate the process. The benchtop units are designed for lab R&D, utilizing liquid nitrogen from small, portable dewar tanks, making larger bulk tanks unnecessary.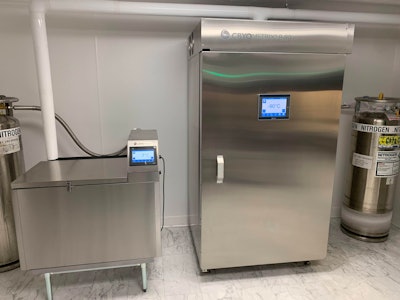 A Temperature Profile Case Study
When a pharmaceutical manufacturer needed a compact blast freezer, the company had strict performance, function and compliance targets for the unit, which would be used in R&D and early phase clinical trials.
The system was required to chill a drug substance from refrigerated conditions (2-8°C) to a final temperature below -70°C under a controlled freeze profile and to maintain it until transfer to a standard freezer.
The unit also needed to reverse the process by thawing the substance under a controlled profile before transfer to a refrigerator or a low-volume production line. For ease of use, the system needed to automatically control the transition to warmer or colder temperatures using pre-defined, programmable recipes.
"In the pharmaceutical industry, experimenting with the temperature profile for freezing and thawing drug substances and product is important. The capability is necessary to ensure the process is fast and uniform as well as to prevent changes in concentration after freezing [known as cryoconcentration]. The mini-blast freezer can be used to determine the stable freeze and thaw temperatures for a given product. The compact freezer's temperature cycles are easily automated, making a direct move to the larger production-scale blast freezers quick and accurate," said Kim Boyce, President of Reflect Scientific, Inc. (symbol: RSCF).
The Orem, Utah-based manufacturer develops and markets cryogenic cooling technologies for the biotechnology, pharmaceutical, medical and transportation markets. The company has more than 30 patents relating to the use of liquid nitrogen with low-temperature freezers, chillers and refrigerated systems.
From a functional standpoint, the unit needed to hold multiple 6L single-use containers or equivalent, or at least ten lab-scale single-use containers, such as 30 mL or 100 mL. For reliability and security, the freezer chamber temperature had to be continuously monitored, controlled and alarmed, with multiple security access levels.
To meet the requirements, the pharmaceutical manufacturer selected a benchtop Cryometrix blast freezer from Reflect Scientific, which utilizes safely contained liquid nitrogen at -196°C to freeze products with cooled air.
The system is designed so there is no contact between the LN2 and the operator or product, which helps to ensure safety and product quality.
Using only a small amount of LN2 from a portable dewar tank, the system can cool from 20°C to -80°C in under two minutes. The temperature is adjustable from +40°C to -90°C, with temperature uniformity of ± 3°C throughout.
"Liquid nitrogen units cool faster because LN2 has a boiling point of -196°C, enabling freezers that utilize it to cool to temperatures as low as -90°C. In traditional compressor-based units, the refrigerant boiling point is -100°C. The key difference is starting off with a much cooler carrier gas," explained Boyce.
A unique aspect of the benchtop LN2 blast freezer is the option to add a rapid thawing capability up to 40°C in the same machine, which can streamline R&D and production while conserving space. With this option, the end user does not need two separate machines.
Programmable thermal recipes enable simple automated control of how quickly the unit transitions from freeze to thaw or thaw to freeze cycles.
The compact, benchtop unit is designed to accommodate the storage of containers, bags, bottles or vials as small as 2 mL up to 6 L in approximately four cubic feet of storage space. This eliminates the need to change container type when a larger blast freezer is warranted.
To ensure product quality, the mini blast freezer provides state-of-the-art temperature and data logging, which can be easily accessed through a touch screen or downloaded to a computer.
The latest software upgrade allows up to 250 users and 5 security levels. Managers can easily control who can open the freezer, change the setpoint and adjust the setting.
Additionally, there are operational benefits from this approach. The compact liquid nitrogen freezers eliminate the need for a compressor and refrigerants. This improves reliability and reduces maintenance due to a simplified design with minimal moving parts.
The eco-friendly design also uses up to 90% less energy than mechanical, compressor-based units, so significantly reduces operating costs.
Although organizations with temperature sensitive products have long been constrained by the relatively slow traditional rate of freezing and thawing stored materials, benchtop blast freezers can dramatically cut the required time for both processes at an effective cost.
The compact units can simplify testing with temperature profile recipes to further expedite R&D, quality control and even low-volume production.