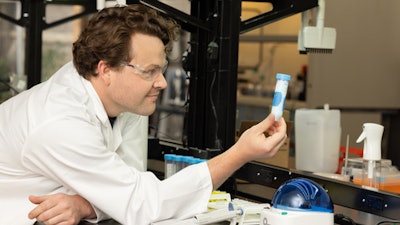 Cascade Biocatalysts
Cascade Biocatalysts, a biomanufacturing company catalyzing green chemistry, raised an oversubscribed $2.6 million pre-seed led by Ten VC with participation from Amplify.LA, Boost VC, Range Ventures, Spacecadet, and the Cool Climate Collective. Cascade aims to use the raised funds to scale its impact from the lab bench to pilot scale and to support its initial wave of customers.
Cascade's vision is to make the industrial use of enzymes more affordable to accelerate the transition to greener chemical manufacturing. At the heart of Cascade Biocatalysts' breakthrough lies its proprietary technology, the patent-pending Body Armor for Enzymes, which drives more cost-effective and sustainable chemical reactions by improving enzyme performance.
For billions of years, nature has relied on enzymes to efficiently make useful molecules. Cascade is moving nature's catalysts out of the cell and into the factory, transitioning chemical manufacturing away from energy-intensive, petrochemical-based processes. By doing so, the company aims to address the three gigatons of greenhouse gas emissions generated by the chemicals industry. Overcoming the current barrier of enzyme cost is a crucial step toward making this a reality.
Cascade's technology uses readily available and cost-effective materials to keep expensive enzymes lasting significantly longer. So far, Cascade has worked on 15 different enzymes and is 100% successful at improving stability under tough industrial conditions, including for multiple paying customers at the lab scale.
The company's co-founders, Alex Rosay and James Weltz, bring together chemical engineering backgrounds, industry expertise, and scientific innovation.
James invented the technology while doing his PhD in the field of enzyme immobilization. "I had tried all other solutions, and they were inconsistent," said James Weltz, Cascade's Chief Scientific Officer (CSO). "When I developed our novel approach, I transformed immobilizing enzymes from a trial-and-error process into an engineering discipline."
With its headquarters in Denver and a presence in California and New York, Cascade Biocatalysts is well-positioned to spearhead the cell-free biomanufacturing revolution.