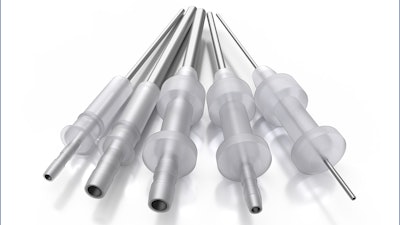 Qosina
Qosina, a global supplier of OEM single-use components to the medical and biopharmaceutical industries, is pleased to introduce OneShot single-use filling needles from Overlook Industries, a manufacturer of single-use filling needles and molded fluid path assemblies for pharma and biopharma fill-finish machinery.
OneShot filling needles are available in a variety of styles and sizes as OEM replacements for the most popular brands including Bausch + Ströbel, IMA, Pall, Inova and Syntegon.
"We are excited to partner with Overlook," explained Scott Herskovitz, President and CEO and Chairperson of the Board at Qosina. "They are established industry innovators in the design and manufacture of single-use pump assemblies as well as custom filling needles. This collaboration is another example of Qosina's commitment to the continuous evolution of our bioprocess components portfolio. Qosina's ability to serve large and small customers, along with our high service levels, sampling capabilities and technical expertise, will assist Overlook in filling a crucial supply chain and distribution function."
John Morin, President of Overlook Industries concurred. "This strategic partnership with Qosina not only broadens our industry reach, but it also aligns with our high-quality standards and service levels, and the core principles that we continually improve upon."
OneShot™ single-use filling needles help boost production by reducing filling line downtime and eliminate the risk of cross-contamination and the need for costly cleaning and validation.
The combination of plastic and stainless steel allows customers to experience the benefits of disposability while still retaining the highest level of filling speed, precision and accuracy that reusable stainless-steel needles provide.
Learn more about Qosina's new line of OneShot™ single-use filling needles.
Explore Qosina's full line of single-use bioprocess components at www.qosina.com/bioprocess.