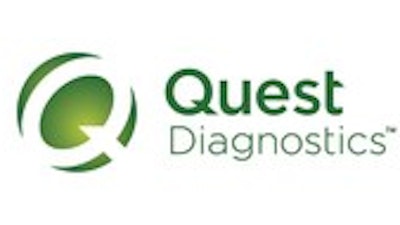 Quest Diagnostics
Quest Diagnostics today announced that its AAVrh74 ELISA assay (CDx) has been granted Breakthrough Device Designation from the U.S. Food and Drug Administration (FDA). Breakthrough Device Designation is an FDA process designed to expedite the development and review of certain medical devices and device-led combination products that provide for more effective treatment or diagnosis of life-threatening or irreversibly debilitating diseases or conditions.
The enzyme-linked immunosorbent in vitro diagnostic assay is for the semi-quantitative detection of antibodies (IgG) to AAVrh74 capsid in human serum. The test is intended to be used in conjunction with other available clinical information as an aid to identify patients eligible for treatment with Sarepta Therapeutics, Inc.'s ELEVIDYS (delandistrogene moxeparvovec-rokl), gene therapy for certain individuals with Duchenne muscular dystrophy.
In addition, Quest and Sarepta] today announced an expanded collaboration under which Quest will develop one or more companion or complementary diagnostics in connection with Sarepta's portfolio of investigational and on-market gene therapies. The collaboration may encompass screening assays for antibodies to Sarepta's AAV-vector based gene therapies for muscular dystrophies, including Duchenne muscular dystrophy (DMD) and limb girdle muscular dystrophies (LGMD). The first companion diagnostic will be for Sarepta's first gene therapy, ELEVIDYS (delandistrogene moxeparvovec-rokl), intended to treat the underlying genetic cause of DMD, which received U.S. Food and Drug Administration approval in June 2023. Quest will also provide clinical lab testing for Sarepta.